Appearance of restaurant
Nearest stations
JR Chuo Line - Tachikawa Station

Tama City Monorail - Tachikawa South Station
BoraBora Tachikawa
BoraBora 立川
Cuisine

Asian/Ethnic / Indonesian/South East Asian,Asian/Ethnic / Sosaku (creative),Cafe/Sweets / Cake / Italian,Italian/French
Average price

Dinner: 2,000 JPY / Lunch: 1,000 JPY
Open

11:30 am - 5:00 am (last order )
Lunch 11:30 am - 3:00 pm (last order )

Closed

none
Address (for taxi driver )

東京都立川市柴崎町3-7-5 ヒューマックスパビリオンB1F

map
Phone Number
English services

English-speaking staff available.
Credit cards accepted

American Express / MasterCard / Visa
Features

English-speaking staff / Free Wi-Fi / Lunch / Late-night service / Child friendly / Coupons/vouchers / Tatami room / Kotatsu (heated table) / Counter seating available / course meals
Other Asian/Ethnic / Indonesian/South East Asian,Asian/Ethnic / Sosaku (creative),Cafe/Sweets / Cake restaurants in Tachikawa, Tokyo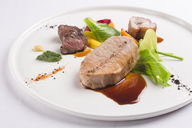 Hachioji / Tachikawa, Tokyo

French,Italian/French / French
Articles of Hachioji/Tachikawa
Learn more about the local culinary scene to get ready for your Japan trip.
Here are the articles to introduce the best restaurants in Hachioji/Tachikawa.
+ View more
- Close