Appearance of restaurant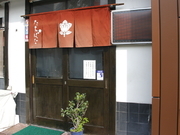 Nearest stations
Tokyo Metro Line - Ginza Station
Two streets directly behind Matsuzakaya Ginza coming three minutes by foot from Ginza Station; ten minutes by foot from JR Shinbashi and Yurakucho, as well
Help desk

:
Savor Japan help desk can help English-speaking foreign visitors in Japan communicate with restaurants and make reservations between 9:00 am and 9:00 pm (Japan time. This is not a toll-free number).
Shop: 03-3571-3541 (+81-3-3571-3541)
Bookmark
If you liked this restaurant, please join a member from "Sign in / Join" button. Then you can use bookmark.
Access

Two streets directly behind Matsuzakaya Ginza coming three minutes by foot from Ginza Station; ten minutes by foot from JR Shinbashi and Yurakucho, as well
Cuisine

Japanese / General,Japanese / Sashimi (raw fish)/Seafood,Japanese / Kaisen nabe (seafood hotpot) / General,Japanese
Average price

Lunch: 800 JPY
Open

Normal hours: 11:30am-11:00pm (Monday-Friday) Only. Last orders are at 9:40pm. Dinner courses are served from 5:00pm. Lunch: 11:30am-2:00pm (Monday-Saturday) . last orders for Lunch are at 2:00pm. (Monday-Friday) Closed from 2:00pm-5:00pm.
Closed

None
Address

OCI Ginza 612, 6-12-15 Ginza , Chuo-ku, Tokyo map
Address (for taxi driver )

東京都中央区銀座6-12-15OCI銀座 612
English services

Unknown.
Credit cards accepted

American Express / Diners Club / Visa
Features

Lunch / Smoking allowed / Reservations / Coupons/vouchers / course meals / Large shochu selection / Large sake selection
Other Japanese / General,Japanese / Sashimi (raw fish)/Seafood,Japanese / Kaisen nabe (seafood hotpot) restaurants in Ginza, Tokyo