From the chef
A chef who puts love into her local Nagano cuisine in tandem with her husband.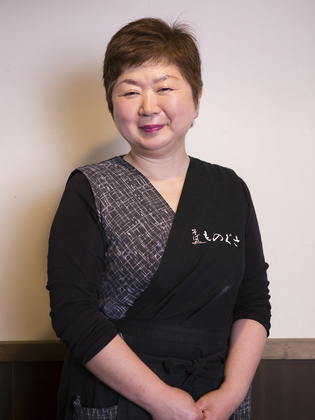 Born in August 8th, 1954 in Nagano Prefecture. Her husband had been working for four years as a salaryman, when he decided he wanted to make a restaurant that could serve the local cuisine from where he was born. He then started training to be a soba chef, and in 1982, they opened the store of their dreams, Sobadokoro Monogusa. From pickled vegetables to desert, she assumes the role of making the local Nagano cuisine along with her husband who makes the soba. They named the shop after the Nagano folk legend "Monogusa Taro". Visiting customers often wish them well, hoping that they get along well as husband and wife, live long a time and have a happy life.
米山 君江YONEYAMA KIMIE
Soba Dokoro Monogusa
そば処ものぐさ
Help desk

:
Savor Japan help desk can help English-speaking foreign visitors in Japan communicate with restaurants and make reservations between 9:00 am and 9:00 pm (Japan time. This is not a toll-free number).
Shop: 0263-36-4705 (+81-263-36-4705)
Bookmark
If you liked this restaurant, please join a member from "Sign in / Join" button. Then you can use bookmark.
Access

10 min. walk from Matsumoto Station.
Cuisine

Japanese / Basashi (horse meat sashimi),Japanese / Soba (noodles),Japanese / Local Japanese / Udon/Soba (noodles),Japanese
Average price

Dinner: 1,000 JPY / Lunch: 950 JPY
Open

Hours: 11:30-22:00. Break from 14:00-17:30. (last order: 22:00) Lunch: 11:30-14:00
Closed

None
Address

3-5-23 Fukashi , Matsumoto-shi, Nagano map
Address (for taxi driver )

長野県松本市深志3-5-23
English services

English menu and English-speaking staff available.
Credit cards accepted

American Express / Diners Club / MasterCard / Visa
Features

English menu / English-speaking staff / Free Wi-Fi / Lunch / Western cutlery / Smoking allowed / Reservations / Reserved rooms / Child friendly / Coupons/vouchers / Tatami room / Kotatsu (heated table) / course meals / Large shochu selection / Large sake selection
Other Japanese / Basashi (horse meat sashimi),Japanese / Soba (noodles),Japanese / Local Japanese restaurants in Matsumoto/Shiojiri, Nagano
Matsumoto / Shiojiri, Nagano

General,Japanese / Japanese style beef steak / Kaiseki (traditional multi-course meal) / Donburi (rice bowl dish)