Appearance of restaurant
Nearest stations
Hakone mountain climbing line - Hakone Yumoto Station - 3-minute walk
Chugokuryoritokaro
中国料理 桃華樓
Cuisine

Chinese / General,Chinese / Yum Cha/Dim Sum,Chinese / Cantonese / General,Chinese
Average price

Lunch: 2,000 JPY
Open

Lunch 11:30 am - 2:00 pm (last order )
[ Saturday,Sunday,Holidays] Lunch 11:30 am - 2:30 pm (last order )

Closed

None
Address (for taxi driver )

神奈川県足柄下郡箱根町湯本256-1湯本富士屋ホテル内

map
Phone Number
English services

Unknown.
Credit cards accepted

American Express / Diners Club / MasterCard / Visa
Features

Lunch / No smoking
Other Chinese / General,Chinese / Yum Cha/Dim Sum,Chinese / Cantonese restaurants in Hakone/Gora, Kanagawa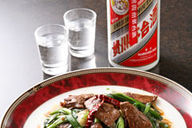 Hakone, Kanagawa

General,Chinese / General / Chinese Sosaku (creative)
Articles of Hakone
Learn more about the local culinary scene to get ready for your Japan trip.
Here are the articles to introduce the best restaurants in Hakone.
+ View more
- Close