Appearance of restaurant
Nearest stations
JR Senseki Line - Ishimaki Station - 10-minute walk
Cuisine

Japanese / Yakitori (grilled, skewered chicken),Japanese / Chicken,Japanese / Soba (noodles) / General,Taverns
Average price

3,200 JPY
Open

5:00 pm - 12:00 am (last order 11:00 pm)

Closed

Wednesday
Address (for taxi driver )

宮城県石巻市中里2-9-7

map
Phone Number
English services

Unknown.
Credit cards accepted
Features

Smoking allowed / Kotatsu (heated table) / course meals
Other Japanese / Yakitori (grilled, skewered chicken),Japanese / Chicken,Japanese / Soba (noodles) restaurants in Matsushima/Ishinomaki/Kesennuma, Miyagi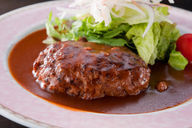 Matsushima, Miyagi

General,Taverns / Beef tongue dishes / Local Japanese / General
Articles of Matsushima
Learn more about the local culinary scene to get ready for your Japan trip.
Here are the articles to introduce the best restaurants in Matsushima.
+ View more
- Close