Hida
Exiting festival in historic town.
Nostalgic ambience of the traditional townscape.
More restaurants
Area Map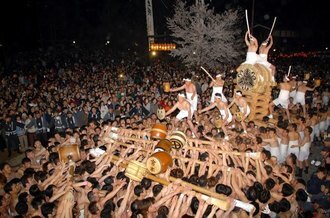 Furukawa festival which is held in April, has a long history and designated as an Important Intangible Cultural Asset. Several hundreds men carry a Rousing drum and gorgeous float, two young men on the top of the float beat the drum. The drumbeats are reverberated through the street. It is worthwhile watching such exiting scene and many tourists gather the street. One of the most famous sightseeing spots in Hida is Hida Furukawa area, an old town retaining the traditional townscape. When you walk alongside the stone-built bank of the Seto river, you may feel like you are caught in a time warp. The row of white-washed wall of the storehouses evokes the image of good old Samurai era of Japan. Among them a sake brewery and a candle shop will welcome you.
Address
Hida-Furukawa station
8-22, Furukawachokanamoricho, Hida-shi, Gifu
Access from major landmarks
From Gifu station to Hida-Furukawa station
One hundred thirty-eight minutes (via JR Limited Express Hida)