Matsumoto
Castle town at the foot of the Japan Alps.
Provides a convenient base for Nagano sightseeing.
More restaurants
Area Map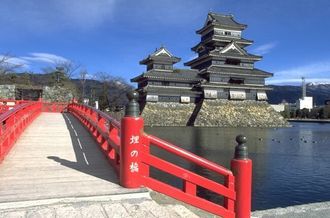 The symbol of Matsumoto City is a National Treasure, Mastumoto Castle. It is one of the most well-preserved castles among the existing castles in Japan and its graceful outlook attracts many tourists. Matsumoto City was not destroyed in the World War Ⅱ therefore many historic building such as the building of Old Kaichi School remains undamaged to this day. The school is now used as the headquarters of Shinsyu University and plays a role of the cultural center, holding concerts by inviting famous musicians such as a globally known distinguished conductor Shoji Ozawa. Matsumoto City also provides an entrance to climbers to popular mountains in the Northern Alps including Mt. Yarigatake and Kamikochi Highland, therefore many accommodations and restaurants are available. You can enjoy delicious dishes and historic hot springs.
Address
Matsumoto Station
1, Fukashi, Matsumoto-shi, Nagano
Access from major landmarks
Tokyo station, Matsumoto station
From Tokyo Station to Nagano Station
One hour twenty minutes (via JR Hokuriku Shinkansen)
From Nagano Station to Matsumoto Station
Fifty minutes (via JR Shinonoi Line)
Or
From Tokyo Station to Shinjuku Station
Fourteen minutes (via JR Chuo Line)
From Shinjuku Station to Matsumoto Station
Two hours fifty minutes (via JR Chuo Line limited express)