Shibamata
The only ferry in Tokyo, 'Yagiri-no-watashi'
operating since the Edo Period.
Area Map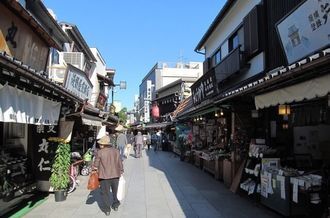 Shibamata has prospered as a temple town of the Taishakuten temple. With more than two hundred years' history, Taishakuten is always full of tourists, welcoming with sculptures and a beautiful, gallery-style garden. Along the road from Shibamata Station to the temple there are many traditional shops and stores reminiscent of a film set, including the famous dango (skewered rice flour dumplings). At Shibamata you may want to try the only ferry in Tokyo, 'Yagiri-no-watashi', which has been operating since the Edo Period (beginning of 17th century to the middle of 19th century). It's just a five-minute boat ride to the opposite shore of Chiba Prefecture, but the slow ride on the river with a gentle breeze will provide you a relaxing and refreshing experience.
Address
Shibamata station
4-8-14, Shibamata, Katushika-ku, Tokyo
Access from major landmarks
From Tokyo station to Nippori station
・Eleven minutes (via JR Yamanote Line)
From Nippori station to Keisei-Takasago station
・Nineteen minutes (via Keisei main Line)
From Keisei-Takasago station to Shibamata station
・Two minutes (via Keisei-Kanamachi Line)
Attractions near Shibamata
Whether it will be your fist visit to Japan or you're already an experienced connossieur, our guide to things to see and places to go in Japan will cover all what you might need to know.
Destinations