Izumo Taisha Shrine
City of gods, the symbol of Izumo.Special shrine among all the shrines all over Japan.
More restaurants
Area Map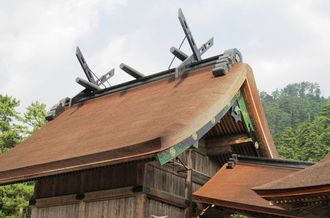 The Izumo Taisha shrine is popular as a matchmaker and a power spot. It is a very old and traditional shrine that the story of its foundation has been conveyed for generations in Japanese myths. The 24-meter-high main building was built in 1744, but the original building built in the Heian Period was said to be 48-meter-high. According to Japanese myths, all gods gather at the shrine in Lunar 10th month. Therefore, Lunar 10th month has been traditionally called "no-god month" in Japan, but only in the Izumo Region the month is called "god month." The story tells us how the shrine is special and important to Japanese gods.
Address
Izumo Taisha Shrine
195, Taisyachokizukihigashi, Izumo-shi, Shimane
Access from major landmarks
From Izumo Airport to Izumo Taisha Shrine
Forty-five minutes (via Airport shuttle bus)

From Izumo-shi station to Izumo Taisha Shrine
Twenty minutes (via bus)
Attractions near Izumo Taisha Shrine
Whether it will be your fist visit to Japan or you're already an experienced connossieur, our guide to things to see and places to go in Japan will cover all what you might need to know.
Destinations
Articles near Izumo Taisha Shrine
Learn more about the local culinary scene to get ready for your Japan trip.
Here are the articles to introduce the best restaurants near Izumo Taisha Shrine.
+ View more
- Close