The "hells" of Beppu
Eight "hells" of spectacular hot springs. Very popular sightseeing course.
More restaurants
Area Map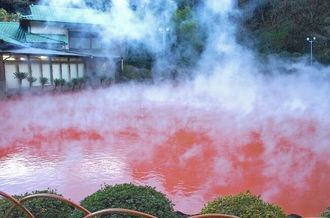 Some of the many fountainheads in Beppu have very unique characteristics; they gush hot mud or boiling water from deep inside the earth. Those hard-to-access hot spring areas were feared by the locals and were called hells. Now the safety is secured and they have become very popular sightseeing locations. Especially the "hell tour" which guides you tour around eight famous hells is very popular and attracting many tourists. Four out of the eight hells are designated as a National Place of Scenic Beauty. Their unique coloring and form make them valuable not only for sightseeing point of view but also for academic point of view. This is where you can easily feel and experience the throb of the earth, a must-see spot.
Address
Beppu Station
Ekimaecho, Beppu-shi, Oita
Access from major landmarks
From Beppu station - Umi-Jigoku
From Beppu station to Umi-Jigoku or Kannawa bus stop
Twenty minutes (via bus)
Or
From Beppu station - Umi-Jigoku
Fifteen minutes (via taxi)

Attractions near The "hells" of Beppu
Whether it will be your fist visit to Japan or you're already an experienced connossieur, our guide to things to see and places to go in Japan will cover all what you might need to know.
Destinations
Articles near The "hells" of Beppu
Learn more about the local culinary scene to get ready for your Japan trip.
Here are the articles to introduce the best restaurants near The "hells" of Beppu.
+ View more
- Close