Kurobe Dam
A dynamic water release in magnificent nature.
More restaurants
Area Map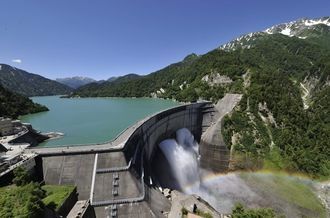 Taking seven years and the hands of 10 million people, the largest arch dam in Japan was completed in 1963. The construction was described in a movie, "Kurobe no Taiyo," the sun in Kurobe, and is regarded as the biggest project in 20 century. The height is 186 m and the view of releasing 10 tons of water from the outlet is overwhelming. This dynamic water-releasing is a part of the poplar tourism course, Tateyama-Kurobe Alpine Route. There is a restaurant and you can enjoy viewing the magnificent view over foods, or taking commemorative photos by "Photto Dam", a commemorative photo service system.
Address
Kurobe Dam
Ashikuraji, Tateyama-machi, Nakaniikawa-gun, Toyama
Access from major landmarks
Shinano-Omachi Station - Kurobe Dam
From Shinano-Omachi Station to Ogisawa Station
Forty minutes (via bus)
From Ogisawa Station to Kurobe Dam Station
Sixteen minutes (via Trolley bus)

Articles near Kurobe Dam
Learn more about the local culinary scene to get ready for your Japan trip.
Here are the articles to introduce the best restaurants near Kurobe Dam.
+ View more
- Close