Publish-date: Apr 28 2023 Update-date: Apr 29 2023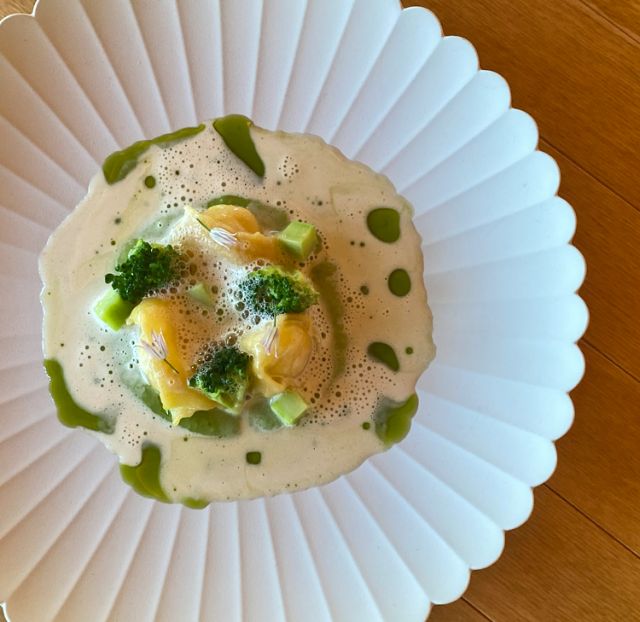 Karuizawa, where hotels are continuously sprouting up. As a novel vacation objective, many individuals are looking forward to dining in hotel restaurants. At "Shishiiwa House," a remarkable building designed by Shigeru Ban, the much-awaited "The Restaurant" will make its debut in July 2022. We conducted interviews with the hotels and eateries we planned to visit.
A restaurant opens at Karuizawa's famous architectural hotel.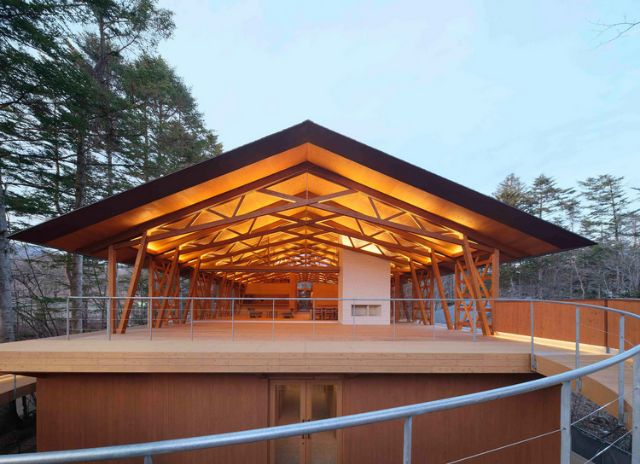 It takes 30 minutes to drive from Karuizawa Station. "Shishiiwa House" is a place where you may appreciate architecture, art, and cuisine that are constructed to fit into the Sengataki forest.

"Shishiiwa House No. 1" by Shigeru Ban opened in 2019, while "Shishiiwa House No. 2" and "The Restaurant" followed in July 2022. "Shishiiwa House No. 3" by Ryue Nishizawa will be added in the spring of 2023.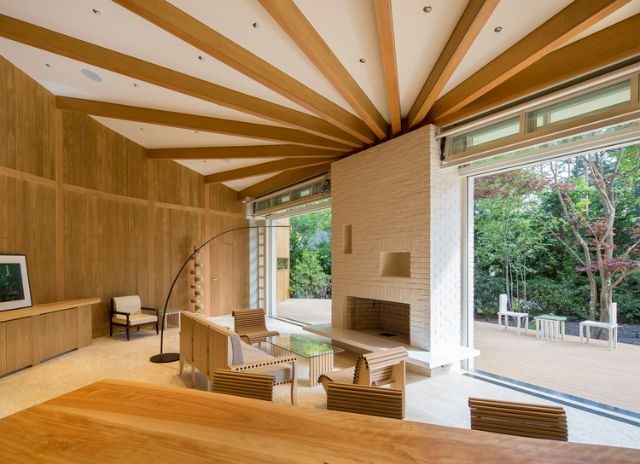 Each structure is a work of art where you can experience nature firsthand. Let's discuss each one individually.

Shishiiwa House No. 1 by Mr. Ban was constructed in 2019 using the least amount of tree cutting feasible to prevent harm to the forest and surrounding area. In order to avoid cutting down the trees, Mr. Ban initially drew the trees that were already present. Then, using a panel building technique that does not require scaffolding, he produced a plan and weaved it through the trees. The curves of the outer wall, which undulate like a living creature, harmonize perfectly with the surrounding beautiful forest, creating a unique landscape.

The organic curve also links with nature in the communal living area, resulting in a peaceful atmosphere that blends with the surroundings. As soon as you arrive, you will lose track of time and remain there for as long as you have been invited to someone's house.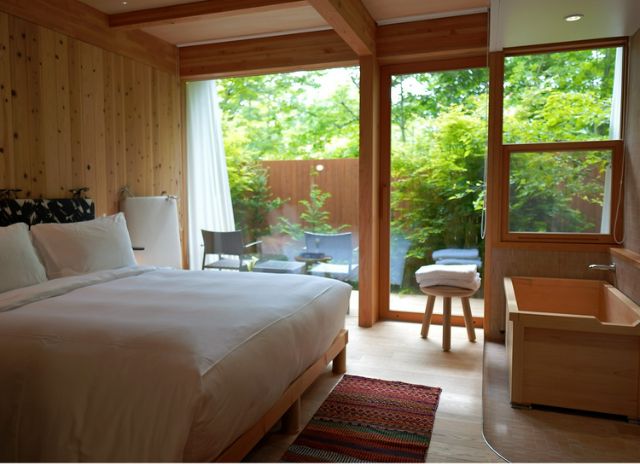 No. 2 is a compact room of 20 square meters with plenty of wood and a well-calculated flow line that is easy to use. Throughout your stay, you will be able to clearly see how every practical aspect of Mr. Ban's innovative design has been taken into consideration. For example, the cypress bathtub is only visible by using the curtain when it is being used, and being shown in the center of the room.

The wonderful forest that is in front of Shishi Iwa House numbers 1 and 2 has been protected because of a statute protecting the environment. You can hear birds chirping and smell the dirt and plants while you are in the room.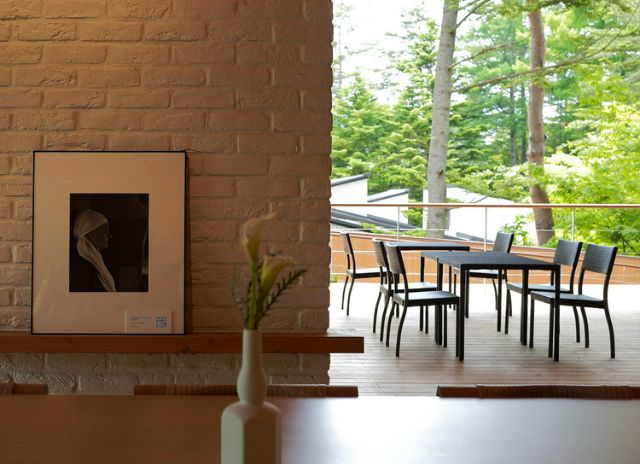 No. 2, where "The Restaurant," the main dining room of Shishi Iwa House, is located, was also designed by Shigeru Ban. The restaurant is built with a transformer structure without pillars so that the landscape and architecture are integrated, giving it a great sense of openness.

The terrace is separated from the indoor space by a large glass window, which can be opened on sunny days to create the atmosphere of a large treehouse in the forest.

Architecture lovers will also appreciate the arrangement of paper tube tables and chairs, a signature feature of Shigeru Ban's work.


Natural cuisine that echoes the architecture of Shigeru Ban
The area where "The Restaurant" is located is very spacious. Here, natural dishes that seem to capture the surrounding natural scenery are presented.

The chef is Mr. Masashi Okamoto. He was the head chef of "Trunk House," the hotel's primary dining establishment in Kagurazaka.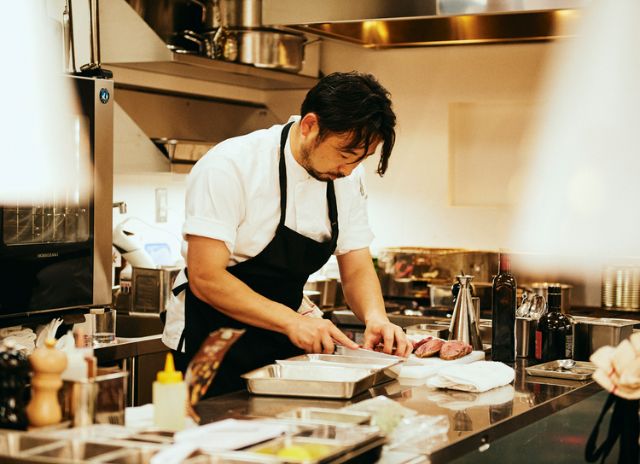 When he was given the position of chef, what type of restaurant did he wish to open? When questioned about this, Mr. Okamoto claims that the hotel's culinary orientation was spontaneously chosen the minute he arrived.

"When I initially arrived here, Shigeru Ban's architecture, space, wind, and light really caught my attention. Experiencing all of this, the direction of my cuisine naturally came to me. I honestly felt that I should pay homage to the blessings nurtured by the land of Karuizawa and capture the vivid colors of the four seasons, without having to put it into words, as if in sync with this space," he says.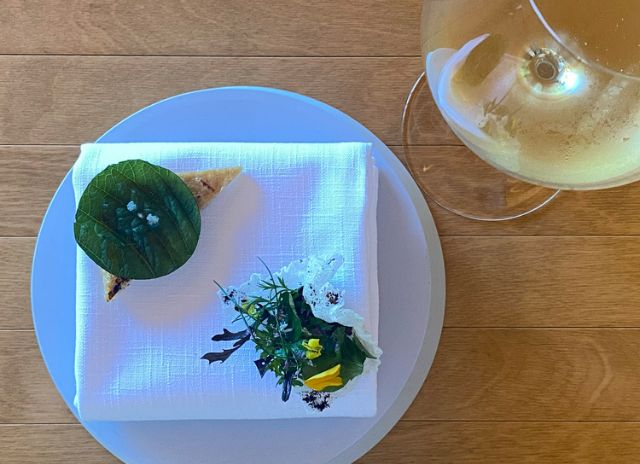 "I want to express "Karuizawa" in my cuisine!" Before opening the restaurant, Okamoto-san carefully searched for producers and ingredients by contacting his acquaintances and researching on his own, and visited frequently. The first dish to appear on the menu, an amuse-bouche made with herbs from Duka Farm, is a dish filled with Okamoto-san's passion.

"The herbs harvested from the pesticide-free fields have a slightly unique flavor and scent every morning. In my cuisine, I wish to include the learnings I get from my everyday excursions. In order to represent that day's field itself, I gathered about 20 different varieties of herbs that were plucked every morning and blended them with roasted almonds and rice crackers."

You'll be astonished when you bite into a little cracker because of the strong herbal aroma that immediately fills your nose. It appears as though you are eating directly from Karuizawa's soil.

By the way, the snack on the left is created with Hotaru Tofu Shop's fried tofu, lardo, and perilla. No matter the genre, combining regional characteristics is part of Okamoto's approach.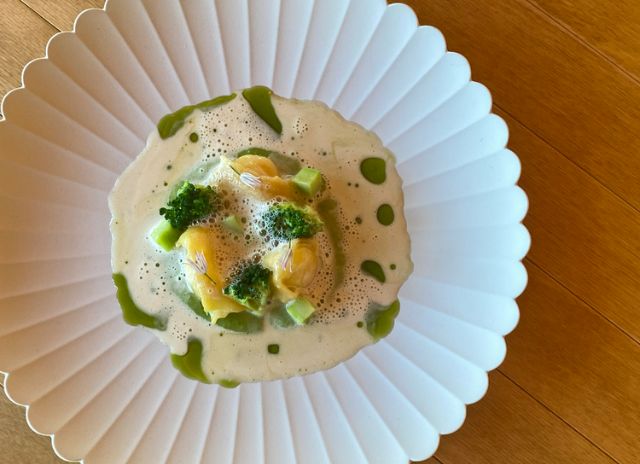 Karuizawa's specialty is also subtly included in the course's hand-made pasta.

The hand-pulled agnolotti is simple with a sauce of broccoli and 24-month aged Comte cheese, but the key is the foams that are softly topped at the end.

This taste was taken from the bacon of the popular "Karuizawa Delicatessen" in Karuizawa. The smoky and rich scent of bacon accentuates the simple pasta.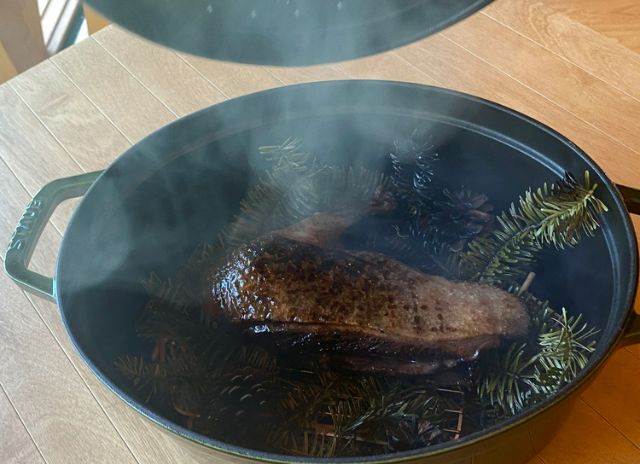 Freshwater fish dishes like Shinshu salmon and char from Nagano Prefecture start to appear in the middle of the course. The chef has been utilizing "Gin No Kamo" silver duck from Aomori Prefecture for a very long time and has fallen in love with it. When asked why he did not use beef or pork for the main course, he replied, "I thought that this duck, with its fat, aroma, and taste, was the ingredient I wanted to have for the climax of the meal in this forest environment.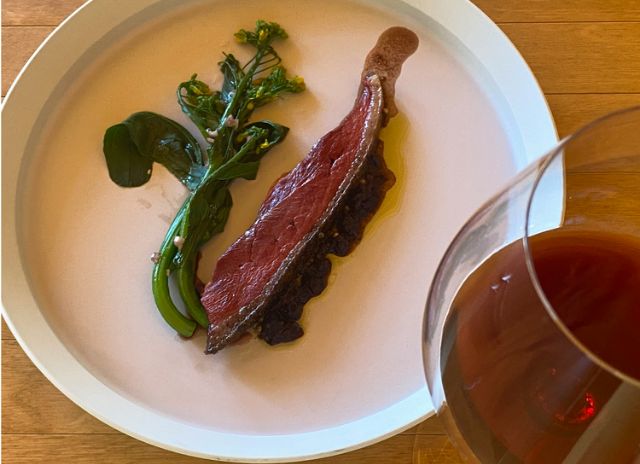 The duck, smoked with hinoki branches inside a cocotte, is rich in flavor with a pronounced fatty taste and pairs well with a robust Bordeaux wine. The fragrance of the cypress wood with the straw and the wild mulberry sauce are in tune with the surrounding forest, giving you the feeling of being surrounded by the forest as you dine.

Integrated cuisine and architecture in the Karuizawa region I feel as though I have merged with nature when I spend time with that worldview.

One of the excitements is receiving treasured wine sent directly from France.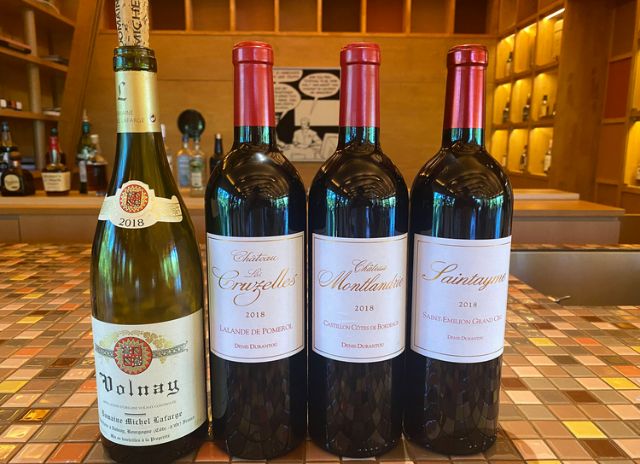 Let me conclude by introducing you to the wine selection at this restaurant that you must not miss.

Owner and director Fay Huang buys the wines straight from Bordeaux and Burgundy.
For this year's house wine, they chose Pinot Noir from Jane Eyre, a rising star who received the Best Negociant Award in 2021, and wine from Michel Lafarge, which is grown in a field close to Chateau Petrus.

At "The Wine & Whiskey Bar" on the same floor, you can also find Madeira wine from the 1850s that was hidden behind the wall of the American museum, which Fay dropped at auction directly.

Your Karuizawa night will take on even more color thanks to the famous sake that is exclusively available here.

Although staying and eating there is advised, it is also feasible to use "The Restaurant" solely for meals. We also suggest the Kamo Soba for lunch because it serves excellent "Gin No Kamo" silver duck bone soup. What about taking a lavish vacation that departs from Tokyo in just one hour and enjoying the architecture, exquisite dining, and nature-inspired sake of Karuizawa?

Disclaimer: All information is accurate at time of publication.