Publish-date: May 14 2018 Update-date: May 31 2019
Like and Share us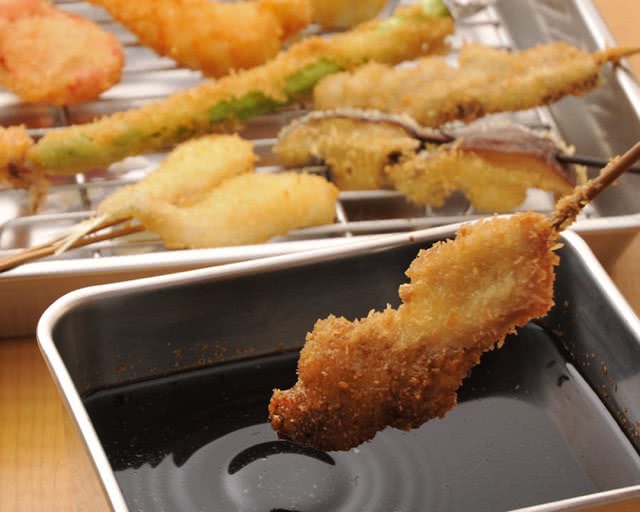 Kushikatsu is a classic delicacy from the popular tourist city, Osaka. Ingredients like meat, seafood, and vegetables are skewered, breaded, deep-fried, and served with a special sauce. Here are 15 izakayas (Japanese pubs) specializing in these tasty treats.
1. Kushi Benkei (Dobutsuen-mae)
You can find this restaurant near the popular attraction, Tsutenkaku. There are counter and table seats to welcome both solo diners and groups. The varied menu offers items made with both standard ingredients and seasonal ones. One dish you absolutely need to try is the [Sasami Ume-niku Wasabi (200 JPY)], which is chicken tender wrapped in plum pulp with a touch of wasabi. The sticky sauce served with their kushikatsu is handmade from scratch and tastes amazing. There's also a great selection of alcoholic beverages, such as beer.
Kushi Benkei
2. Sakura Kitasyukugawa (Higashi-Umeda)
Other than kushikatsu, Sakura Kitasyukugawa offers plenty of specialties from Osaka, such as okonomiyaki (Japanese savory pancake) and doteyaki (beef sinew stewed with condiments like miso and mirin). Their menu offers over 50 kinds of kushikatsu that are light and not too greasy, so you can have as many as you like. If you don't know what to order, the [Kushikatsu Assortment] allows you to have the chef's recommended skewers. You can increase or reduce the number of skewers in this dish. They've gathered together a variety of ingredients for their skewers, from standard ones to rare ingredients.
Sakura Kitasyukugawa
3. Cutlet-Bar Fudokun (Tamatsukuri)
From kushikatsu to tonkatsu (fried pork cutlet), this Western-style izakaya offers many options. If you're here for kushikatsu, order the popular [Assortment of 6 of the Restaurant's Most Popular Skewers (800 JPY)], which consists of onions, shiitake (a type of mushroom), creamy soft-boiled eggs, beef, Oimo pork loin, and shrimp. They're breaded with extremely fine breadcrumbs, which becomes crispy when deep-fried. The restaurant recommends starting with plain rock salt as a topping. They have come up with a plethora of original kushikatsu, such as the [Kushikatsu Fondue (1,280 JPY)], which is eaten with cheese and chili shrimp sauce.
Cutlet-Bar Fudokun
4. Kitashinchi again (Kitashinchi)
This popular restaurant was awarded 1 star on a world-renowned gourmet guide. There are only 15 seats, but from them, you can enjoy kushikatsu with all your senses: a view of the kushikatsu getting deep-fried in a big pot until crispy, the aroma wafting from them, and the sound of bubbling oil. The only menu item is the [Again Kushikatsu Course (7,000 JPY)]. The owner goes to the Municipal Wholesale Market early in the morning to carefully select the best ingredients. Ingredients like seasonal seafood and vegetables are then turned into 17 delicacies, prepared in a way that brings out their umami (Japanese savory taste). Apart from sake (Japanese alcohol) and shochu (another type of Japanese alcohol), you can also pair their skewers with wines selected by the owner, who also happens to be a sommelier.
Kitashinchi again
5. Shinken (Sembayashi)
Shinken's tagline, "We make the best kushikatsu", stands in truth. All their superb skewers are made with top-quality ingredients and oil. Procured from markets, all their ingredients - like seafood and ji-dori (local chicken) slaughtered that morning - are extremely fresh and cooked at just the right temperature. You'll find a variety of options on their menu, from classic meat cuts and vegetables to unique creations like the [Gouda Cheese and Bacon (140 JPY)]. There are also a la carte options that go well with alcohol.
Shinken
6. Kushitei (Sakaihigashi)
This laid-back, folk-style restaurant is perfect for enjoying kushikatsu. Though all the seats are by the counter - where you get to eat piping hot, freshly fried kushikatsu - there's enough space so that you can sit back and relax. Their kushikatsu, made with seasonal ingredients, are served with the restaurant's special Japanese or Western-style sauces. For their course meals, you can adjust the number of ingredients according to your preference. You can finish up your meal whenever you want, so let your appetite decide for you and enjoy the food!
Kushitei
7. Sandaime Dotonbori Ikkyu (Nippombashi)
This kushikatsu restaurant was established way back in 1947.  Their kushikatsu made with recipes passed down for over 70 years is paired with other delicacies offered by the 3rd generation chef. Of course, all the ingredients are fresh and seasonal. To enhance their flavors, they're carefully prepared before being cooked. After being coated in fine fresh panko, they're fried until crispy and fragrant. A favorite is the [Ikkyu Fry], where tuna and onions make a great combo with the sweet dipping sauce. You should also try some of the seasonal flavors on offer, such as hamo (pike conger) in the summer and ginnan (ginkgo nuts) in the fall.
Sandaime Dotonbori Ikkyu
8. Dashimaru (Tanimachi 4-chome)
Pick this izakaya if you want to enjoy reasonably priced kushikatsu, oden (assorted stewed food), and alcohol in a casual atmosphere. The ingredients they use include fresh produce procured from the market, and the menu offers a large variety of dishes that highlight the sweetness of seasonal vegetables. Be sure to try their unique [Fuwafuwa Kushikatsu (80 JPY)]. Made with their original fermented batter, these skewers are fluffier than any other kushikatsu you've seen before.
Dashimaru
9. Meijiken (Shinsaibashi)
This well-established restaurant that serves up Western-style Japanese cuisine was founded more than 90 years ago. Their specialty is omurice, but they also make delicious kushikatsu. Bite into their crispy beef round skewers, dipped in their special sauce, and feel the juicy umami of the meat take over your mouth. It's recommended to order the [Omurice & Kushikatsu 5-kind Set (1,180 JPY)], which allows you to enjoy both kushikatsu and their delicious omurice (flavorful chicken rice wrapped in a fluffy omelet). They also offer curry rice, hayashi rice (hashed meat and rice), beef stew, and much more.
Meijiken
10. Kushinobo Osaka Hozenji Main Branch (Namba)
This is the main branch of Kushinobo - a long-established kushikatsu place that's very popular with the locals. Look out for its old-style appearance and red noren (entrance curtains). While honoring the traditional recipes dating back to its establishment, it offers new flavors to satisfy just about any craving. Their kushikatsu options are unique in both ingredients and breading, and dipping them in their secret sauce results in an incredibly rich flavor. The most popular one is the crispy [Green Asparagus], which is fried whole at the perfect temperature. You'll love its color and crunchiness! Don't miss their seasonal offerings, like summer vegetables and winter oysters and monkfish!
Kushinobo Osaka Hozenji Main Branch
11. Kushinobo (Tennoji)
Located in Japan's tallest skyscraper, ABENO HARUKAS, this modern Japanese restaurant has enough space to stretch your legs and unwind. They have a lineup of over 40 different kushikatsu, prepared according to recipes that have existed since its establishment. All the ingredients used are fresh and carefully selected. Made with snow crab, the outstanding [Zuwaigani no Kisu Maki] lets you taste the sweetness and soft texture of snow crab. If you opt for the [Kushikatsu Omakase O-ryori], you'll be served items made with the recommended ingredients of the day. A big plus is that they offer all-you-can-eat cabbage and vegetable sticks!
Kushinobo
12. Kadoya Tennoji Koen Branch (Tennoji)
At this lively restaurant with the ambiance of a fish market, you can eat tons of kushikatsu, sushi, and other seafood dishes for an extremely reasonable price. The [Kushikatsu Assortment (780 JPY)] comes highly recommended for anyone with a large appetite. Starting with large tiger shrimp, this set offers 6 crispy skewers with a super thin coating. Other popular options are the [Omakase Otsukuri Assortment] - a sashimi platter of 7 - 8 types of seasonal seafood - and the [Kin Motsunabe (980 JPY)], which consists of offal and vegetables boiled in an original, Japanese-style dashi (broth).
Kadoya Tennoji Koen Branch
13. Koreya Kawachi-Kosaka Branch (Kawachi-Eiwa)
Koreya Kawachi offers kushikatsu starting from 100 JPY (plus tax) each. From when they open until 7:00 pm, they also offer a second drink at 100 JPY off! Aside from Osaka-style kushikatsu, they have plenty of [Miso Kushikatsu], which is Nagoya-style kushikatsu served with a thick miso sauce. They also have other options like teppanyaki (ingredients grilled on an iron griddle) dishes or seasonal dishes like fresh sashimi. Regulars also love their [Chicken Wings Karaage] (deep-fried chicken wings)!
Koreya Kawachi-Kosaka Branch
14. Koreya Kawachi-Hanazono Branch (Kawachi-Hanazono)
This is the Hanazono branch of the popular chain, Koreya. Like the one in Kawachi-Kosaka, the prices for their kushikatsu start from as low as 100 JPY (plus tax). If you don't know what to order, try the [5-Kind Assortment]. It's a set of pork, beef, onion, lotus root, and asparagus kushikatsu. They make lots of other dishes as well. You can choose from around 100 different dishes, ranging from their popular [Chicken Wings Karaage] to cheese and gratin.
Koreya Kawachi-Hanazono Branch
15. Miraku Kaizuka Branch (Kaizuka)
This comfortable restaurant is loved by anyone. The Kushikatsu is made with their original recipe and deep-fried in 100% beef tallow, then served with their original sauce. This brings out all the good qualities of the ingredients, resulting in a truly addictive flavor. The outside is crispy, and the inside is incredibly tender and juicy. Their popular menu, [Asparagus], is fried whole and served with mayonnaise on the side. Enjoy it as you like with mayo, or simply seasoning it with some salt.
Miraku Kaizuka Branch
There's no better combination than kushikatsu with alcoholic beverages like beer. If you're in Osaka, don't miss the opportunity to have some!
Disclaimer: All information is accurate at time of publication.