Publish-date: Nov 27 2019 Update-date: Jan 31 2020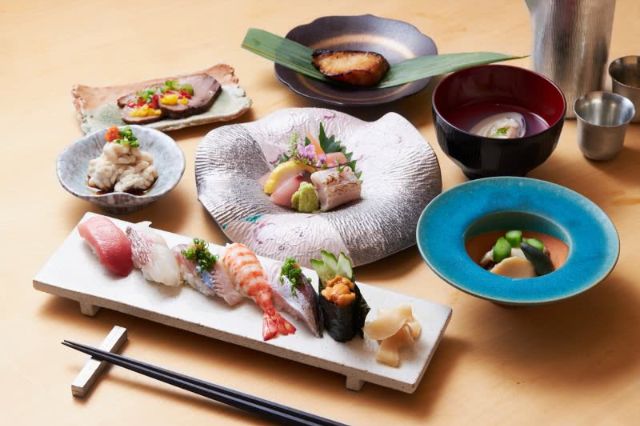 Roppongi is a an area of Tokyo known by a number of different names, such as the City of Commerce, the City of Entertainment, and The City of Nightlife. Roppongi has venues like Roppongi Hills, The National Art Center, and Tokyo Midtown centered around the main street, and the city is a common destination for a constant influx of visitors—resulting in a bustling atmosphere of perpetual activity regardless of the hour. This edition features a comprehensive report on the characteristics and attractions of sushi restaurant [Sushi & BAR yon], located conveniently just a 1-minute walk from Roppongi Station.

1. About the Roppongi Sushi Restaurant [Sushi & BAR yon]
After getting off at Roppongi Station, head to Exit 5 and follow along the main street to a building one street in, and you'll find [Sushi & BAR yon] on the 3rd floor. The restaurant is characterized by an opulent exterior, and blends a staple of traditional Japanese cuisine in sushi with the unique atmosphere of a Roppongi bar, staying open until 4:00 am (last order for meals is at 11:30 pm). Be sure to take advantage of their long hours if you happen get into the city late on your way back from sightseeing. The restaurant is a superlative option for delicious sake and exquisite Edomae sushi.

2. What is Edomae Sushi?
First off, a brief introduction about Edomae sushi. Edomae sushi refers to the sushi that was traditionally made with fish caught in the Edo Bay (called the Tokyo Bay today). The term sushi itself is a broad term that includes different varieties of sushi like nigirizushi (oblong, hand-pressed sushi), makizushi (rolled sushi), and oshizushi (block-shaped, pressed sushi), but Edomae sushi is primarily centered upon nigirizushi. In past times, preserving fish while retaining its freshness was an impossible task due to insufficient refrigeration technology, so instead, seasoned sushi chefs would improvise by preserving the fish in salt or vinegar, or otherwise simmering it before serving the dish. The sushi of these times are said to have been the early beginnings of Edomae Sushi.

3. Experience Luxury with the Ume Course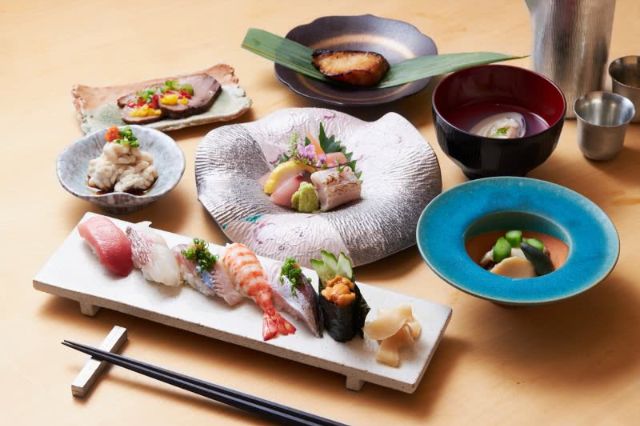 If it's your first time visiting a sushi restaurant, or if you find yourself unsure of what to choose, the [Ume Course] (9,800 JPY) is a highly recommended option. The comprehensive course consists of 7 dishes that include everything from various fish entrées to sushi, and is cost-effective compared to courses of a similar scale offered at other restaurants. The following is detailed description on each dish in the course for your reference.

Sushi (6-piece assortment)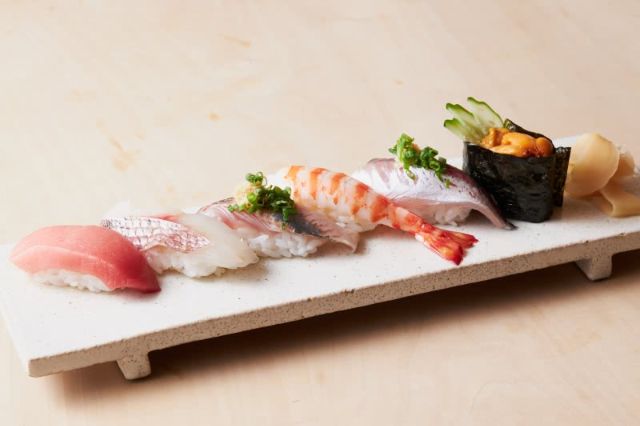 The first dish—a 6-piece assortment of Edomae sushi is the main star of the Ume course. As introduced in the brief history of the dish, the making of Edomae sushi embodies the flavors honed through a longstanding lineage of cultural traditions. The sushi featured in the dish are (in order from left to right): chutoro (medium fatty tuna), madai (red sea bream), sanma (saury), ma-aji (horse mackerel), and nama uni (raw urchin). Typically, the sushi is served 2 to 3 pieces at a time, depending on your pace. The degree of freshness is of utmost importance when it comes to sushi since the quality of fish gradually begins to decline from the moment the chef starts shaping the sushi with his hands. Accordingly, you'll want to keep in mind that it's standard decorum to eat each piece as soon as it's served. Each bite is packed with the trademark umami (Japanese savory taste) flavor exclusive to when it's prepared by the seasoned sushi chef.

5 Small Bowl Dishes (including soup)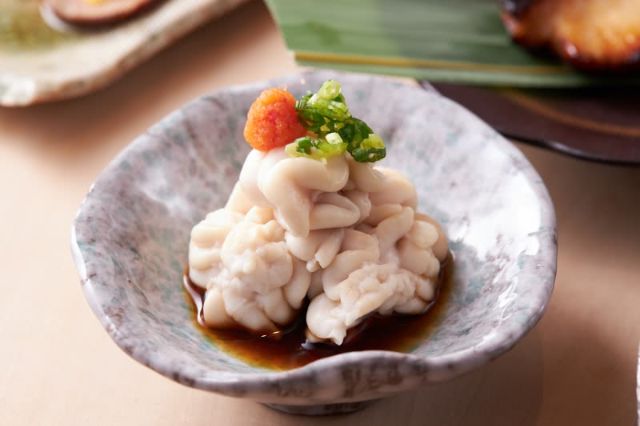 [Shirako (milt)]
It's quite likely that this is a dish you've never seen or heard of before. The shirako, or milt in this dish is taken from cod. Although it's fairly difficult to describe the flavor of milt, a crude way of putting it would be a thick, creamy flavor of concentrated fish umami. The dish is very much worth the novelty of trying if you've never had it before.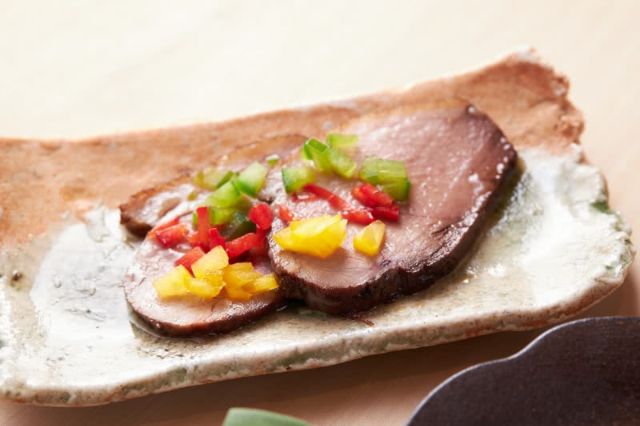 [Duck Loin Braised in Red Wine]
Next up is a dish prepared with an ingredient that's a bit of a delicacy—duck. Braising it gradually over a long period of time results in a tender, moist, and flavorful dish from the repertoire of Western cuisine. Each bite spreads the uniquely savory juices of duck meat throughout your mouth.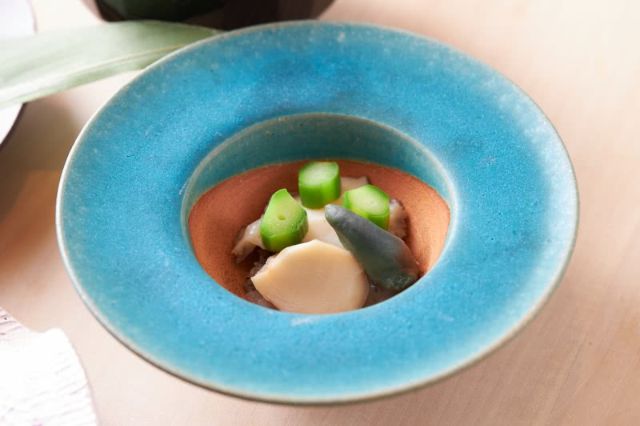 [Awabi no Sakamushi]
Awabi no Sakamushi refers to abalone steamed in sake. The [Awabi no Sakamushi] served at [Sushi & BAR yon] has a firm texture that's rewarding to bite into, and after chewing it, it releases a fragrant flavor of sea-stained rock salt that pairs well with the juicy asparagus.

[Gindara no Yuanyaki]
Gindara (black cod) with just the right touch of fat has a rich, filling flavor that has earned its place in a broad variety of dishes in Japanese cuisine. Yuanyaki refers to a method of broiling in yuanji (a mixture of soy sauce, sake, and mirin with round slices of yuzu and kabosu (two kinds of Japanese citrus fruits)). The fish meat is soft, and the flavors of the sauce permeate through the center of the fish in this dish. As the dish is grilled on charcoal, you'll enjoy the delicious smoky scent course through your nose.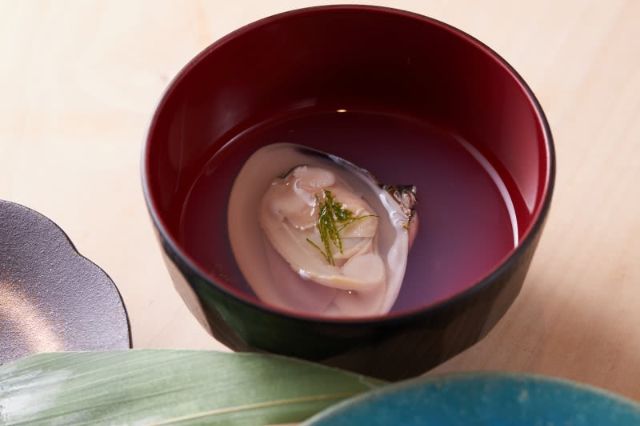 [Hamaguri no Suimono]
The owan, or bowl, refers to a side dish served in a bowl that is indispensable to Japanese cuisine. At [yon], the soup dish is made with clams. The large clams are plentifully stuffed with clam meat, and the firm texture is very satisfying to chew on. The gentle umami of the clams is coalesced in the soup, and accented by a touch of yuzu.

Sashimi Made with Seasonal Fish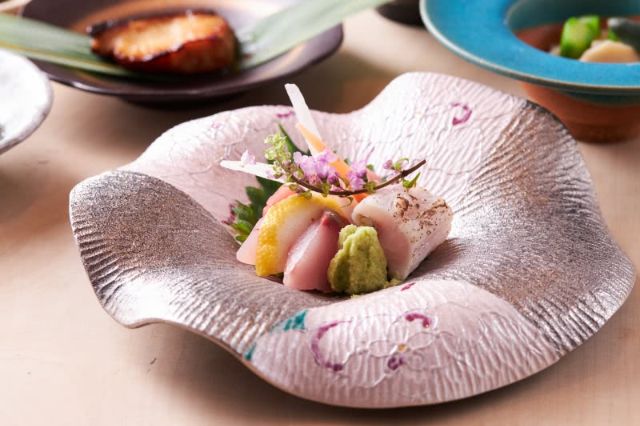 The next dish is a lavish assortment of seasonal fish served as sashimi. The defining aspect of sashimi is being able to savor the pure flavors innate to the ingredients. The ripe flavors of the fresh fish every season are packed into this single dish. Please be sure to try it with the wasabi.

Dessert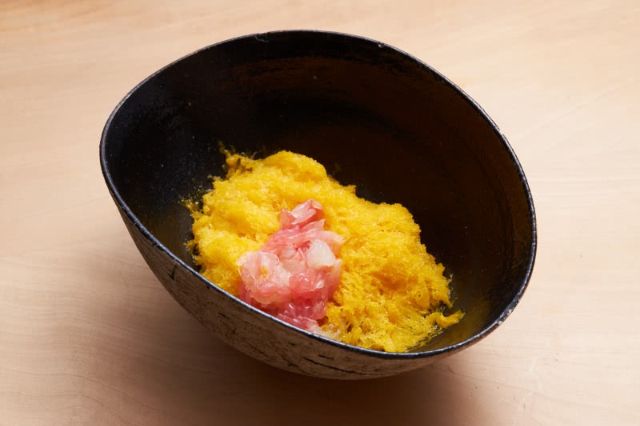 After a full course assortment of the aforementioned dishes, how about some dessert for closure? At the time of this review, the dessert on the menu was the [Mango Shaved Ice Topped with Grapefruit]. The incredibly fruity flavor tastes as though you're eating a mango itself, as opposed to mango-flavored shaved ice. The slightly sour flavor of grapefruit goes tremendously well with the mango's sweetness, forming an addictive blend of contrasting flavors. However, do keep in mind that the dessert does change according to the seasons.

4. Highly Acclaimed Even by the Savvy Japanese Native: Nama Uni from Hokkaido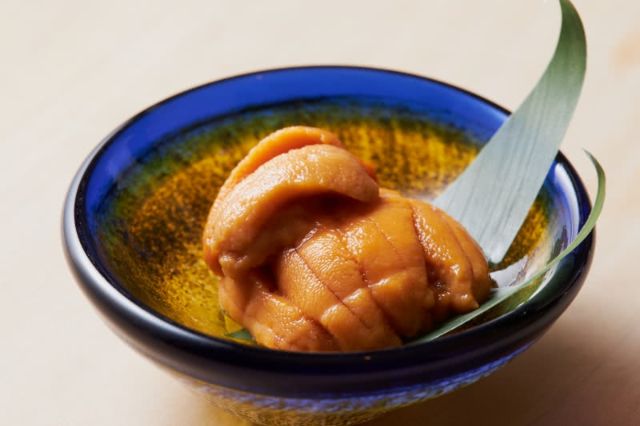 [Sushi & BAR yon] is a restaurant frequented by Japanese customers who are well-versed connoisseurs of sushi. Upon asking one of the chefs if there was a particular type of sushi that was a favorite of the regulars, his answer was the [Nama Uni] produced in Hokkaido. Hokkaido is a premier supplier of seafood in Japan, and [Sushi & BAR yon] is a place where you can partake in the bounty of Hokkaido's seas. The uni is fully packed with meat, and deep inside the thick richness you'll find a faint touch sweetness that follows. It's recommended that you try it without putting anything on it to get acquainted with the sweetness intrinsic to the ingredients. It's a dish held in high esteem by regular customers who've tried the works, so be sure to give it a taste.

5. Over 10,000 Yen a Bottle!? Try a Rare and Elusive Sake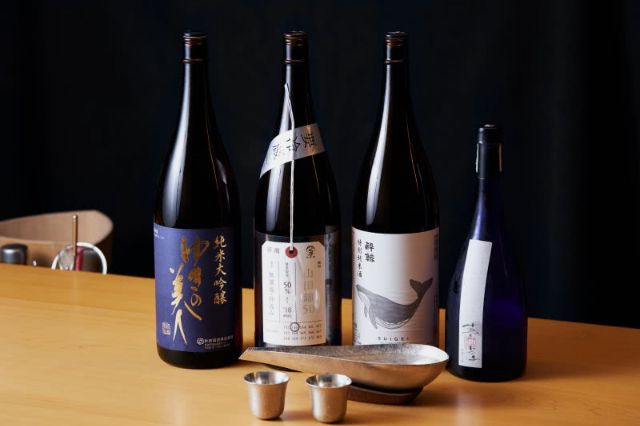 Another attraction of [Sushi & BAR yon] is being able to enjoy sake alongside the exquisite cuisine. You'll find a dazzling selection of sake that can be seen from the counter seats, making the ultimate decision a very difficult one. The sake known as the [Mujaku] (pictured on the far right of the photograph) is said to cost over 10,000 yen a bottle. Known for its fruity, full-bodied flavor, this sake is a jack-of-all-trades that complements not only Japanese cuisine, but French and Italian as well. How about a glass to go with your meal?

6. Watch Nigirizushi Made Firsthand at the Counter Seats
Although [Sushi & BAR yon] offers all different kinds of seating arrangements, from tables to private rooms, it's highly recommended that you make a reservation for the counter seats. You'll have the chance to follow the convention of a complete sushi experience while sitting in front of the itamae (a cook in a Japanese kitchen), a seat which affords the luxury of watching the entire sushi-making process from start to finish. You'll see everything from dexterous knife skills to the nigiri (hand-pressing) of sushi up close.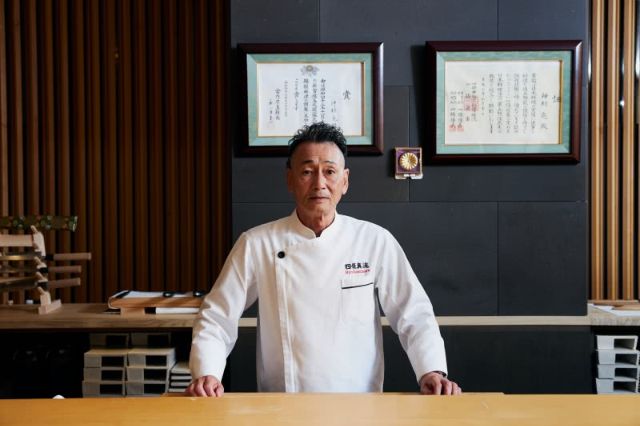 Much of the information in this article was provided by the courtesy of Mr. Kamimura Ryo. Mr. Kamimura has not only served in the Imperial Household Agency, but also holds the title of master in [Yojoshinryu], a prestigious school of Japanese cuisine.
*The Imperial Household Agency is a government office responsible for both the clerical duties related to the Emperor's state-related activities, and matters of the state pertaining to the Imperial family.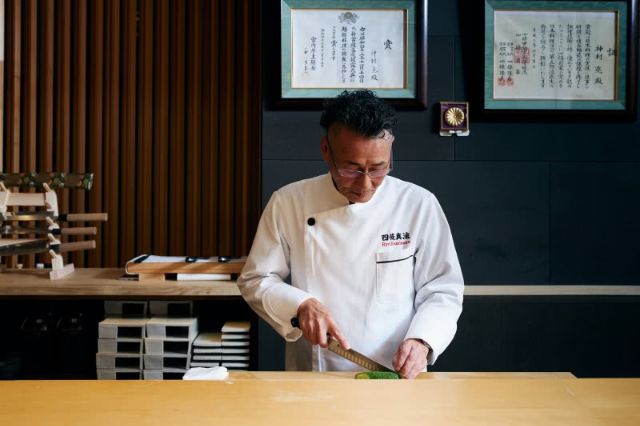 Please consider a reservation for the counter seats for an up-close view of the itamae's versatile finesse in the kitchen. The visual presentation is one of the main reasons why a visit to [Sushi & BAR yon] is so worthwhile.

7. Delve into the Unique Ambiance at [Sushi & BAR yon]
There is one thing you can hopefully keep in mind to have the best possible experience while taking in the sushi and sake during your visit. [Sushi & Bar yon] offers an exclusive kind of ambiance you won't find elsewhere. For that reason, you'll want to be respectful by keeping conversations to a minimum during the course of your visit, instead immersing yourself in an atmosphere characterized by exemplary culinary technique and delicious cuisine prepared by the chefs. In order to maintain its high standard for all guests, they also respectfully request that you don't take too much time leaving after you're finished eating. Your cooperation will be greatly appreciated by both the restaurant and the other guests.

8. Taking the Final Step of Making a Reservation at [Sushi & BAR yon]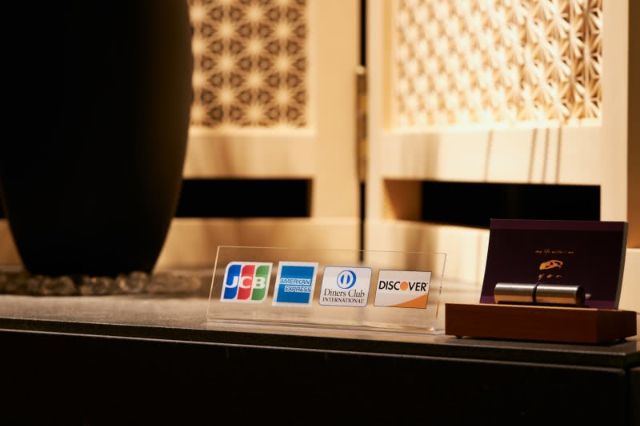 There are countless other attractive options on the menu other than the ones introduced that you'll definitely want to consider as well, so please take the opportunity to visit yourself should you have the chance. Reservations can be made with SavorJapan. Payment by credit card is an available option, so you won't have to worry about being short-handed when you've either forgotten to exchange your currency, or when you've impulsively ordered a little more than originally intended.

Sushi & Bar  yon
Open
:
[Weekdays] Dinner 6:00 pm - 4:00 am (L.O. 3:00 am ) [Saturday, National Holidays]  Dinner 6:00 pm - 11:00 pm (L.O. 10:00 pm)
Closed
:
Sunday
Average price
:
[Dinner] 14,800 JPY
Access
:
2 minutes walk from Roppongi Station Exit 5 on Subway Lines
Address
:
3F, Goto Bldg., 3-13-14, Roppongi, Minato-ku, Tokyo
(
Map
)
More Details
   Reservation   
If you ever happen to be sightseeing in the Tokyo area, stop by [Sushi & BAR yon] for a stellar evening in placid comfort.

Disclaimer: All information is accurate at time of publication.