Publish-date: Feb 28 2019 Update-date: Aug 06 2019
Like and Share us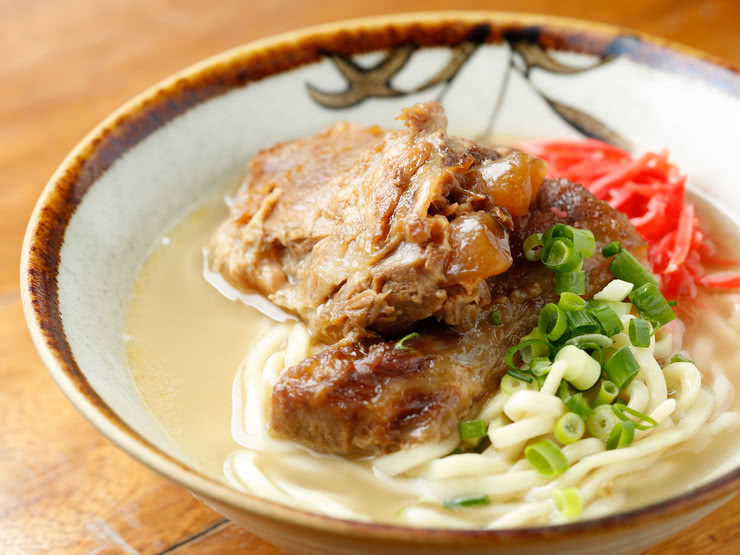 Okinawa: a tropical prefecture where it's sunny all year and the ocean is crystal-clear. Activities like marine sports are plentiful too, but don't miss out on Okinawa's specialty gourmet foods! Here are seven of Okinawa's most well-known dishes, and restaurants where you can try them.

1. Okinawa Soba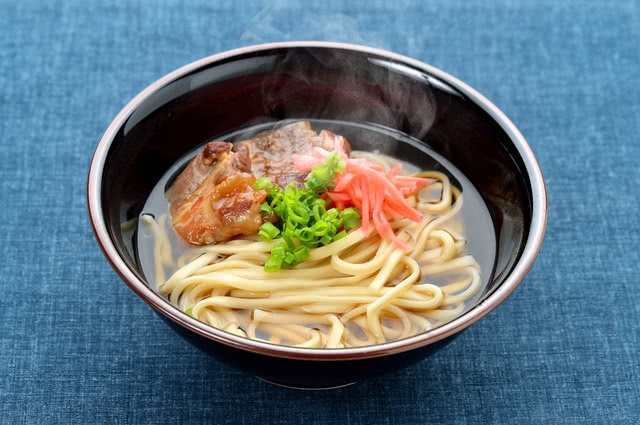 Okinawa soba is a regional dish that exemplifies Okinawan culture. It is a noodle dish originating in the cuisine of the Ryukyu Kingdom's imperial court, featuring a light salt-flavored broth. Its noodles are similar to Chinese noodles, made with wheat flour, salt, and alkaline water, upon which boneless pork ribs and fish cake are placed. Green onion and pickled ginger often come as condiments. Depending on the shop, other toppings include tofu and various vegetables, and instead of boneless pork ribs, sweet and spicy bone-in spareribs known as "soki" are also served. This variation is known as "soki soba." Across Okinawa, the noodles, soup, and toppings can vary, so why not go on a culinary exploration of the different types of Okinawan soba!

Akisoba (Asahibashi / Udon and Soba)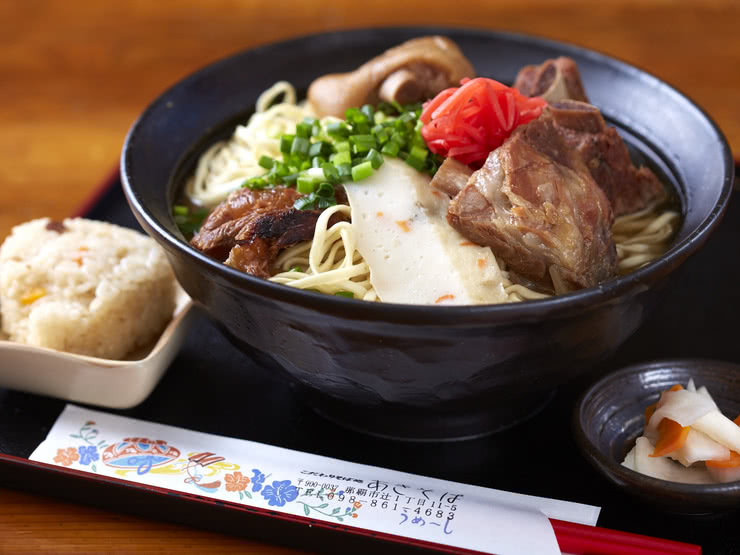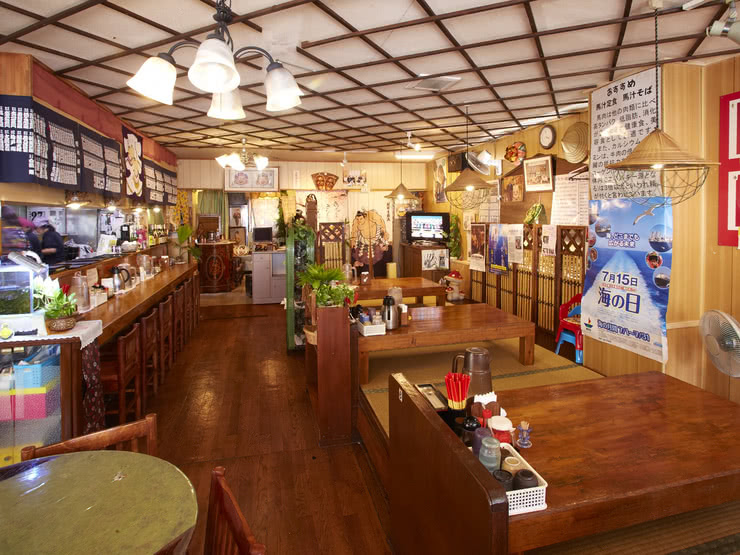 For lunch, this restaurant is an Okinawa soba shop, but for dinner, Akisoba becomes an izakaya (Japanese pub) where you can enjoy both Okinawa Soba and other local dishes. With a uniquely Okinawan atmosphere, you can relax and enjoy a splendid meal. Featured on its menu is the eponymous dish, [Akisoba] (830 JPY). With pig's feet, boneless pork ribs, cartilage, soki, and fish cake, this perfectly hearty dish features all of the quintessential toppings of Okinawa soba. The combination of homemade noodles and a light Japanese-style broth will truly stoke your appetite, and it even comes with onigiri (rice ball) that pairs wonderfully with it.

Akisoba
Open
:
Lunch 11:00 to 15:00 / Dinner 17:00 to 00:00 (last order 23:30)
Closed
:
Sundays
Average price
:
[Dinner] 3,500 JPY / [Lunch] 670 JPY
Access
:
Head north along the rive after getting off at Asahibashi Station. Turn left at the Izumizaki stoplight. Turn right after the distribution center and then left at the first line; it will be on the right.
Address
:
1-11-5 Tsuji , Naha-shi, Okinawa
(
Map
)
More Details
 Reservation 
Uruku Soba Tomigusuku Branch (Onoyama-koen / Udon and Soba)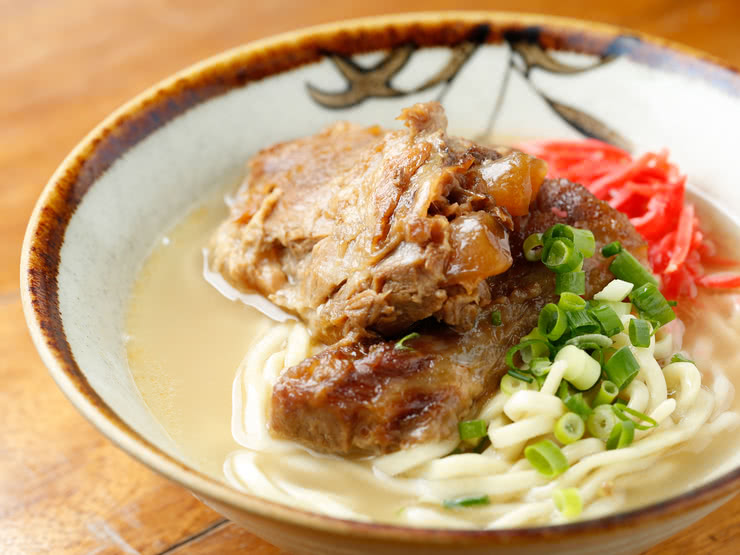 This restaurant offers local dishes such as [Okinawa Soba] and [Goya Champuru] (bitter melon scramble), as well as an elaborate set meal menu with tonkatsu (fried pork cutlet), karaage (deep fried chicken), and other dishes. With stark white walls and a spacious interior, Uruku Soba is popular among both families and tourists alike. They offer customizable toppings on their [Okinawa Soba] too. The most popular combination is the [Tendon Soki Soba] (small 550 JPY, large 650 JPY). This dish features a hearty serving of tendon soki, gently simmered to perfection. The meat's tender and juicy texture are absolutely addictive. Both the noodles and broth of the soba are customizable: choose between thin or wide noodles, and between a thick tonkotsu broth or a light katsuo (bonito) broth. Have fun choosing!

Uruku Soba Tomigusuku Branch
Open
:
11:30 am - 2:00 pm
Closed
:
Irregular
Average price
:
[Dinner] 1,000 JPY
Access
:
10 minutes by car from [Onoyama Park Station]
Address
:
763-1, Tomigusuku, Tomigusuku, Okinawa
()
2. Goya Champuru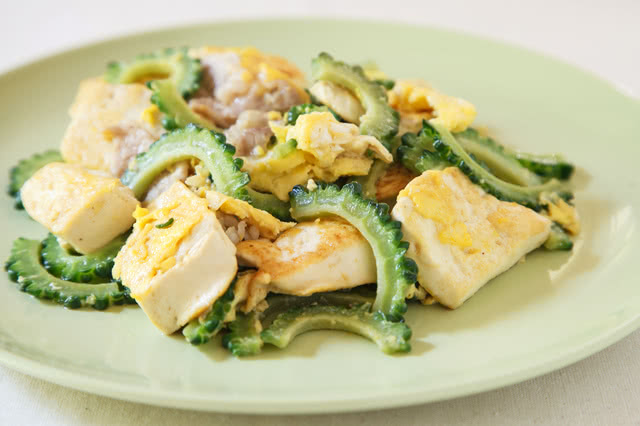 Goya champuru is perhaps the most famous of Okinawa's homemade cuisine. "Champuru"  means "hodgepodge" in Okinawa's local dialect. Vegetables, tofu, meat, and more are stir-fried together and flavored with shoyu, katsuo dashi (bonito broth), and other flavors. Okinawa's local specialty, goya (bitter melon), is often used. Common variations of this dish include "tofu champuru" and "fu champuru," which use tofu and fu (wheat starch) instead of goya, respectively. Depending on the ingredients, there are many variations of this tasty dish.

Uraniwa (Onna / Izakaya)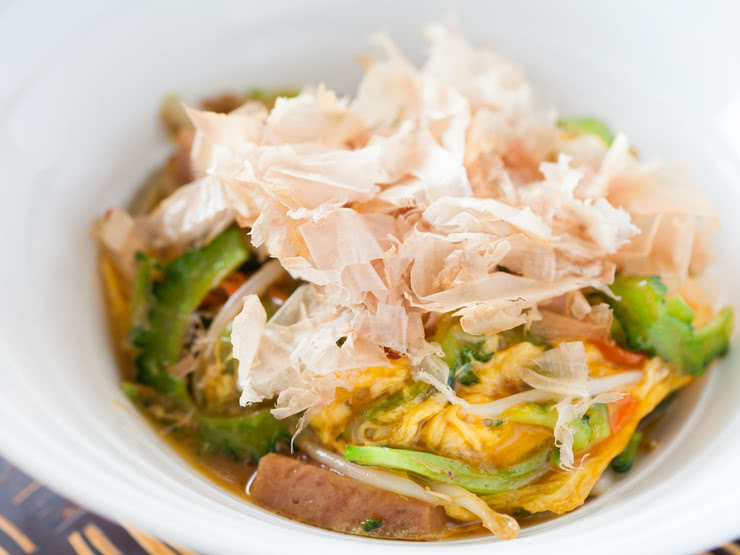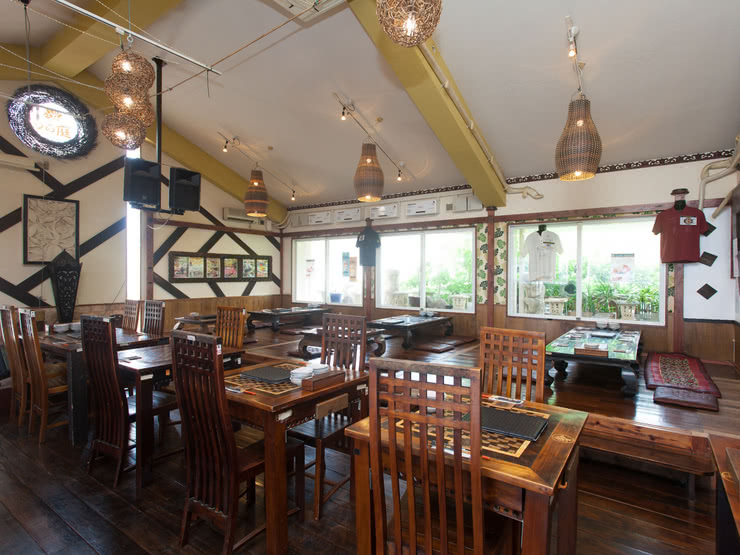 Uraniwa is a popular restaurant featuring daily Okinawan sanshin (three-stringed banjo) performances. You can enjoy local Okinawan dishes, as well as dishes like teppanyaki (ingredients grilled on an iron griddle), made with carefully selected, locally grown ingredients. [Goya Champuru] (890 JPY) is a popular, staple item on Uraniwa's menu. To subdue the bitter taste of the goya, it is sliced thin and flavored with bonito dashi and sesame oil, making it an easy-to-eat dish popular with children. Another recommended dish is the [Yanbaru Island Agu Pork Hamburger] (1,250 JPY for 180g), one of many must-try meat dishes made with pork raised in Okinawa.

Uraniwa
Open
:
[Monday - Wednesday, Friday - Sunday, National Holidays, Day before National Holidays] 6:00 pm - 12:00 am (L.O. 11:00 pm)
Closed
:
Thursday
Average price
:
[Dinner] 4,000 JPY
Access
:
Next to Kafuu Resort Fuchaku Condo-Hotel
Address
:
256, Fuchaku, Onna-son, Kunigami-gun, Okinawa
(
Map
)
More Details
 Reservation 
3. Rafute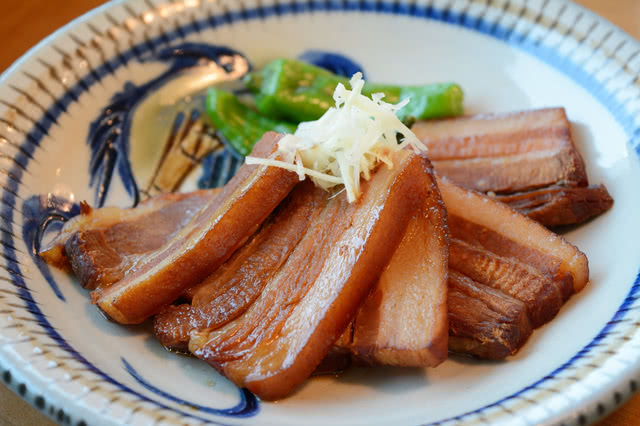 One of Okinawa's local dishes, rafute is Okinawa's take on kakuni (braised pork belly). Typically made with skin-on boneless pork ribs, it is first lightly grilled and parboiled, then simmered for hours in awamori (Okinawan alcohol), soy sauce, sugar, and more. The sweet and spicy, yet soft pork ribs are loved by many, and nowadays, rafute is prepared in restaurants and homes alike outside of Okinawa as well.

4. Ishigaki Beef and Agu Pork Yakiniku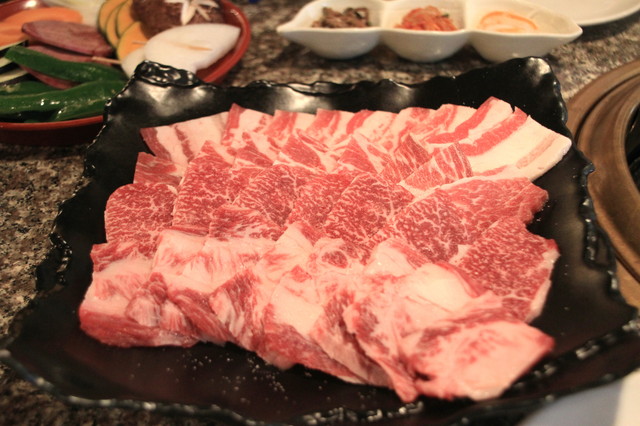 Yakiniku (Japanese BBQ) made from locally raised beef and pork is a popular, must-try dish when you visit Okinawa. "Ishigaki beef" and "Agu pork," among other popular brands of meat, are well-known for their delectable taste and are available at yakiniku restaurants across the islands. Both brands are known for the low melting point of the meat's fat. This makes the meat sweet and juicy, yet still light and refreshing. Enjoy grilling the meat together with vegetables grown in Okinawa, and indulge in the deliciousness of Ryukuan yakiniku.

NAKAMA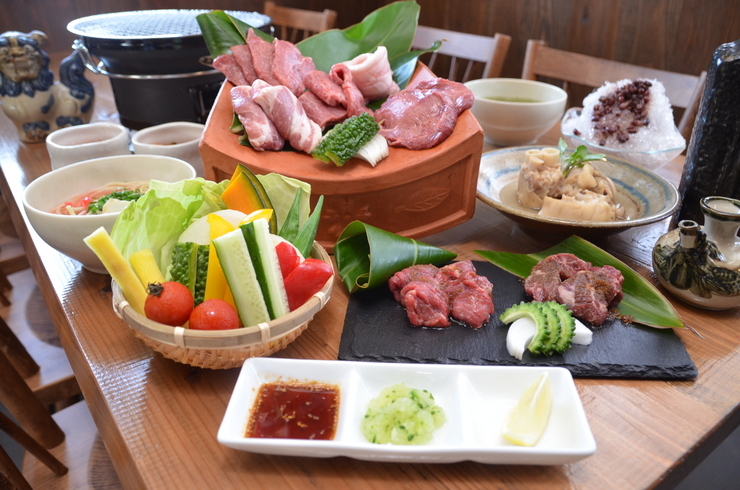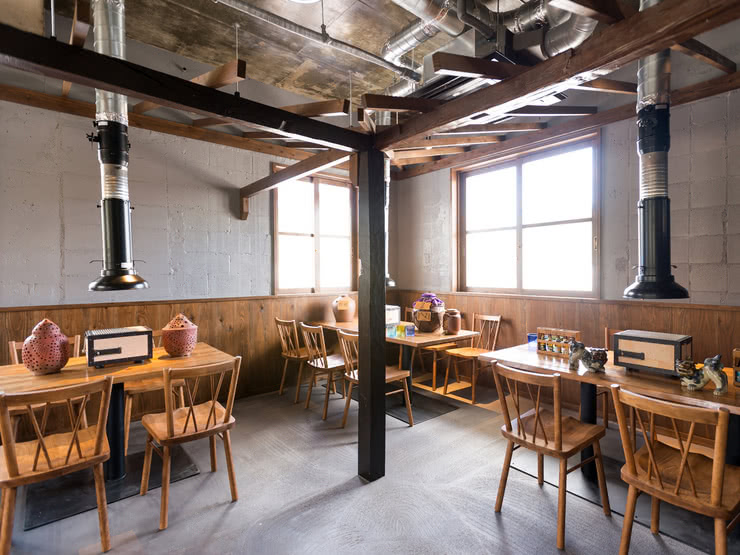 NAKAMA is a bright and stylish restaurant where you can enjoy exceptional Ryukyuan yakiniku. The restaurant occupies a remodeled old Japanese-style house built 40 years ago, furnished with recycled Ryukyuan wood tables and glass pendants. They are known for their large courses made with locally grown ingredients, including Ishigaki beef, Agu pork, and Yanbaru Island vegetables. Among their many courses using an abundance of local ingredients, many recommend the [Agu Pork and Okinawan Wagyu Course] (4,500 JPY), which comes with appetizers, a la carte dishes, yakiniku consisting of Agu pork, wagyu (a type of high-quality beef) raised in Okinawa, and island vegetables, soup, rice, and dessert. There is a vast drink menu as well, from awamori and beer to wine and whiskey sours.

Ryukyu Yakiniku NAKAMA
Open
: 5
:00 pm - 12:00 am (last order 11:00 pm)
Closed
:
None
Average price
:
[Dinner] 4,000 JPY
Access
:
Exit Okinawa Highway at the Kyoda Interchange. 7 minutes by car from Kyoda Interchange along National Route 58.
Address
:
2247-1 Aza Nakama , Onnason, Kunigami-gun, Okinawa
(
Map
)
More Details
 Reservation 
5. Taco Rice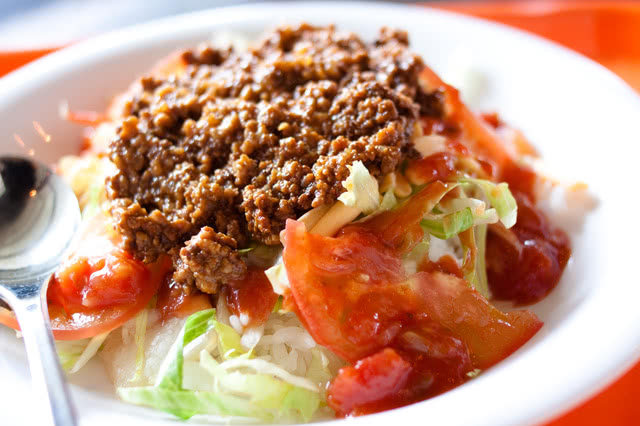 Taco rice, a dish invented in Okinawa, simply consists of the contents of a taco placed on rice. You can choose your own toppings from spicy ground beef, cheese, lettuce, tomatoes, and more. Taco toppings and rice are, surprisingly, an amazing match, and make for an easy-to-eat meal, too. This dish is so popular in Okinawa that it's even served in school cafeterias.

beach cafe anjina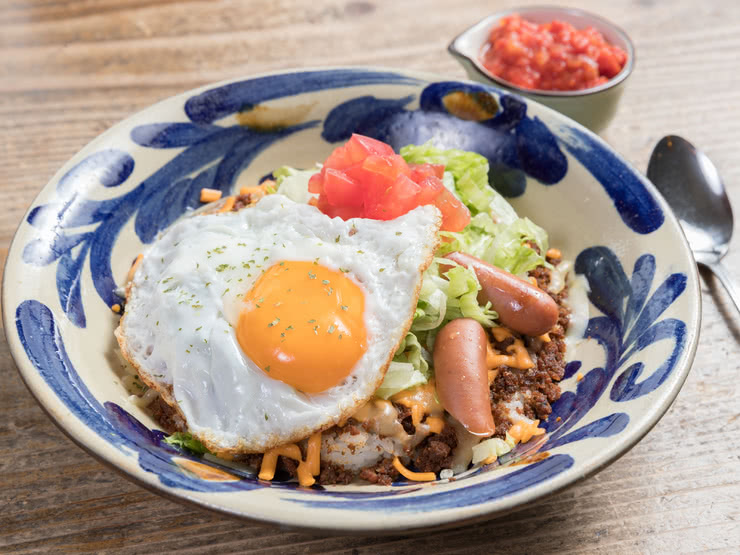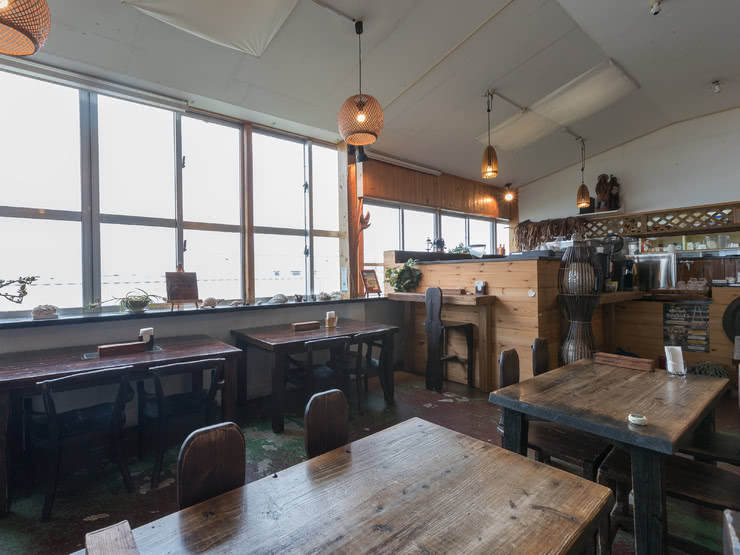 From this cozy cafe with a tropical interior design, one can gaze at the sky and sea. It has a wide-ranging menu, serving up anything from Okinawa's specialties to curries, hot dogs, and even sweets like parfaits and cakes. One of its most well known menu items is the [Taco Rice] (780 JPY), a beautiful combination of rice, the house salsa, and minced meat mixed with a variety of spices. Mash together the crunchy vegetables, rich cheese, and sunny-side up egg - you'll get a slightly spicy dish whose unique taste will leave you begging for more!
beach cafe anjina
Open
:
[Monday - Wednesday, Friday - Sunday] 11:00 am - 7:00 pm
Closed
:
Thursday
Average price
:
[Dinner] 1,000 JPY / [Lunch] 1,000 JPY
Access
:
Approximately 20 minutes by car from Naha Airport. Enter Senaga-jima (island), turn right, then on your right
Address
:
173 Senaga, Tomigusuku, Okinawa
(
Map
)
More Details
 Reservation 
6. Umi Budo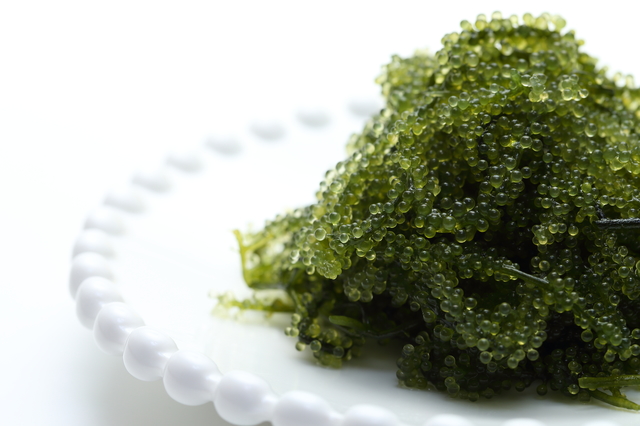 "Umi budo", literally meaning "sea grapes", are officially called "kubirezuta". It refers to a seaweed that grows in warm waters, such as off the coasts of Okinawa, Australia, and Hawaii.  With a bubbly texture and subtle saltiness, most Okinawas eat it raw, dipped in just a little bit of vinegar or dipping sauce. It's filled with minerals like magnesium and calcium, as well as dietary fiber, so it's a healthy food that makes a great addition to a salad.

Min-yo Izakaya Kanasando (Motobu / Izakaya)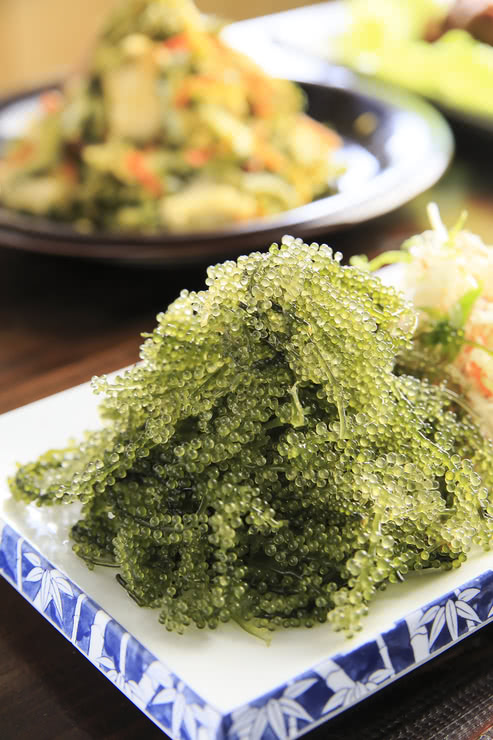 Min-yo Izakaya Kanasando is an izakaya with a cozy, at-home ambiance with live folk-music performances. It offers an extensive menu of Okinawan home-cooked dishes, as well as an all-you-can-drink course popular with locals. They are known for their bubbly [Umi Budo] (500 JPY), which comes with their house-specialty sauce. Once you take a bite, you won't be able to stop! They have many dishes unique to Okinawa too. Try their [Island Fish Nizuke] (1,000 JPY), featuring fish freshly caught by the store owner and boiled in soy sauce. Another dish you have to try is their [Goat Soup and Sashimi] (1,000 JPY). Make sure to try them all!

Min-yo Izakaya Kanasando
Open
:
[Tuesday - Sunday/Public Holidays/Days Before Public Holidays] Normal hours: 5pm - 1am
Closed
:
None
Average price
:
[Dinner] 2,000 JPY
Access
:
On the other side of the Family Mart near the Urasaki intersection at the end of Route 114
Address
:
Urasaki Bldg. 2F, 176 Aza-Urasaki , Motobu-cho, Kunigami-gun, Okinawa
(
Map
)
More Details
 Reservation 
7. Tebichi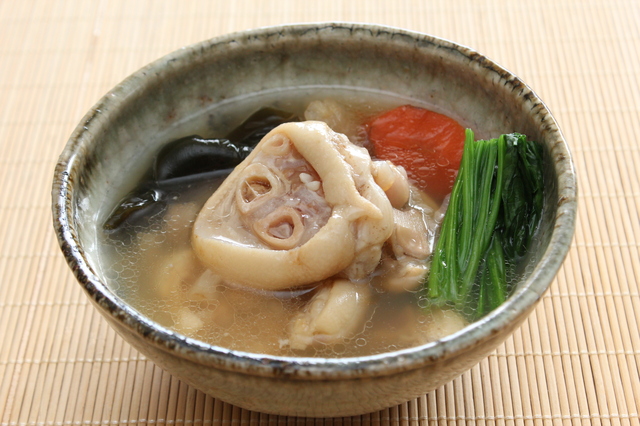 In Okinawa, pig's feet is called "tebichi", and is typically eaten boiled in soy sauce and as a topping on Okinawa Soba. The style of cooking tebichi varies by restaurant and family. A basic method of preparation common in the islands is to simmer the tebichi until it becomes soft and juicy, then add vegetables and seasoning, such as shoyu (soy sauce) and dashi, to make a soup. Tebichi is also often simmered in a sweet and spicy sauce, giving it a flavor similar to that of rafute. It contains a little meat and a lot of collegen-rich tendon, making it especially popular those who want beautiful skin.

Shimauta Live Juri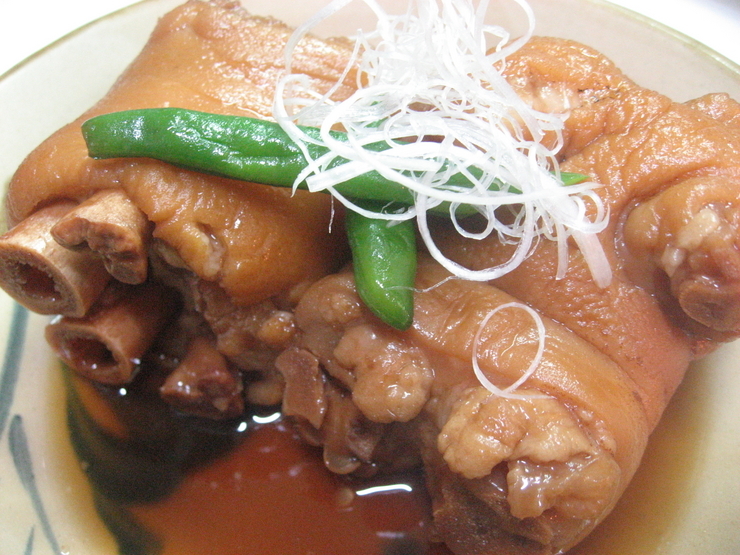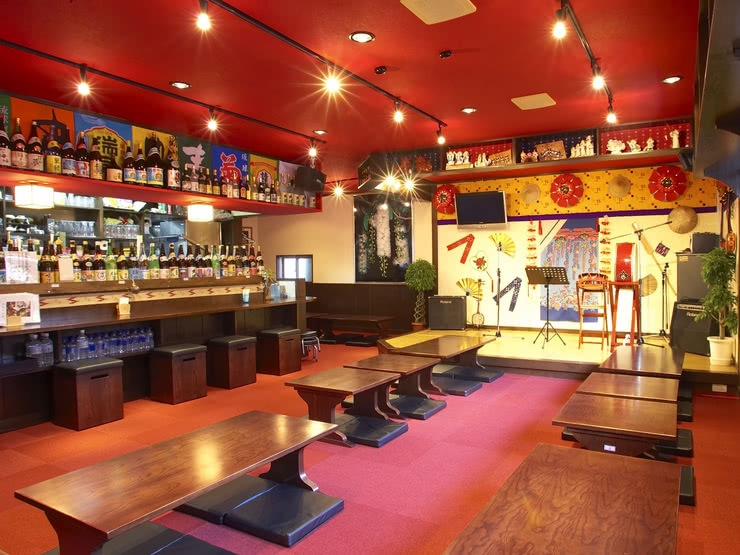 From traditional Okinawan dishes to creative cuisine, this restaurant is known for its vast menu. With daily performances of Okinawan folk music, you'll be able to relax and enjoy the distinctly Okinawan atmosphere. The popular [Tebichi] (680 JPY) is boiled for hours until it's so soft that it'll fall apart in your mouth. Its sweet and spicy flavor goes well with both rice and drinks. This dish is especially popular because it's packed with collagen. Another popular dish is the [Papaya Champuru] (630 JPY), made with papaya, the quintessential Okinawan ingredient. This restaurant has a wide array of drinks as well and offers a fantastic all-you-can-drink course.

Shimauta Live Juri
Open
:
Normal hours 6:00 pm - 12:00 am (Last order for food: 11:00 pm)
Closed
:
None
Average price
:
[Dinner] 3,500 JPY
Access
:
Through Kokusaidori Matsuo intersection (Kokusai Plaza Hotel corner) towards Matsuo Fire Station, about 1 minute. Opposite corner from the Naha Grand Hotel.
Address
:
2-2-29 Matsuo , Naha-shi, Okinawa
(
Map
)
More Details
 Reservation 
Okinawa's many delicious local dishes made with locally grown ingredients are addictive to say the least, and pair wonderfully with drinks. Take a trip out to Okinawa and find your favorite dish!

Disclaimer: All information is accurate at time of publication.