Publish-date: Dec 27 2017 Update-date: May 30 2019
Like and Share us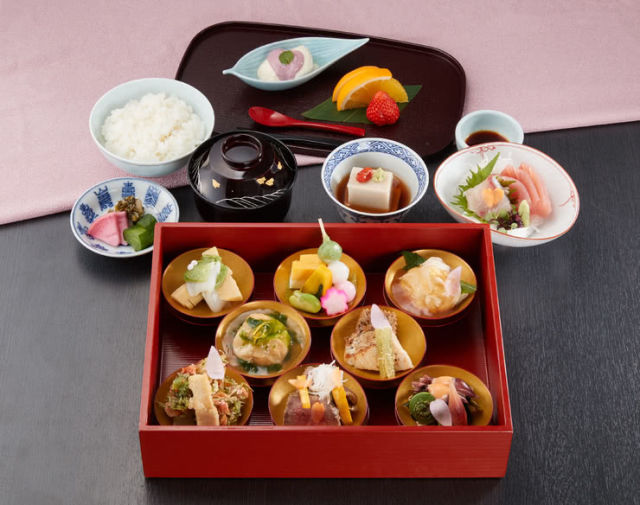 One of the things to look forward to when visiting Kyoto is its unique food culture. This article introduces 15 restaurants where you can taste Kyoto cuisine that makes use of traditional ingredients and techniques that have been developed over a long period of time. All of these restaurants are within the vicinity of Kyoto Station, so they're easy to access.

1. Eijuan
Located inside Hatoya Zuihokaku, this restaurant is a 5-minute walk from Kyoto Station. Eijuan serves unique Kyoto dishes made of seasonal ingredients, and offers a modern Japanese atmosphere for diners. They have a wide range of gozen (set meals) with plenty of beautifully decorated dishes, obento (lunch boxes), and Kyoto-style Kaiseki cuisine (traditional Japanese course cuisine with tea). Their dishes that use seasonal ingredients, starting with their assorted sashimi made with in-season seafood, can be consumed with their wide variety of sake (Japanese alcohol). Their flagship dish is the [Omi Beef and Kamo Eggplant Rikyu-yaki], which uses seasonal Kyo-Yasai (traditional vegetables from Kyoto) and Omi beef. It is seasoned with a shoyu (soy sauce)-based sweet and spicy Japanese sauce, making it a perfect pair with rice or even sake.
Eijuan
2. Uguisu
Located about a minute's walk from Kyoto Station, Uguisu offers fully private rooms for guests, as well as dishes with generous servings of ingredients raised and produced in Kyoto. They serve a wide variety of dishes, ranging from traditional to modern Japanese cuisine, such as tempura using Kyo-Yasai and "yuba ryori" (dishes made from tofu skin formed from heating soymilk). Most of their best-selling dishes use kamo-nasu (round eggplants), which is a type of Kyo-Yasai. One such dish is their [Kamo Nasu no Nikuzume] (round eggplants marinated in dashi (stock) and stuffed with sweet and spicy meat). Its umami (Japanese savory taste) explodes in the mouth with every bite. Another must-try dish is the [Nama-fu no Roll Katsu] (steamed wheat gluten mixed with rice flour, then wrapped in pork belly and shiso (perilla) leaves). It is crispy on the outside, yet soft and juicy on the inside - you're sure to love it!
Uguisu
3. Ichishun
Ichishun is an izakaya (Japanese pub) that's located near Kyoto Tower, which is right in front of Kyoto Station. The menu includes dishes made from seafood that is directly sourced from fishing ports, as well as from the restaurant owner's catches. Also, they get their supply of fresh, pesticide-free vegetables directly from local farmers. Some of their must-try dishes are: the [Assorted Sashimi] made from fresh, seasonal seafood that were acquired from nearby seas, and the [Meibutsu Yogan-yaki] (seafood grilled on a hot stone plate made from Mt. Fuji) that'll let you enjoy the umami from fresh vegetables cooked by infrared heat. If you want to enhance the taste of your dishes, they also offer a variety of Kyoto ji-zake (Japanese local alcohol) that you can order at a reasonable price.
Ichishun
4. Masoho Kyoto Branch
Just a 3-minute walk from Kyoto Station, Masoho is a restaurant in a converted Kyo-machiya (traditional Kyoto townhouse) that's located at the end of a stone sidewalk behind an alley. Here, you can enjoy dishes made from seasonal seafood, such as the [Ichiya-boshi] (fish that has been salted and dried overnight) and [Obanzai] (traditional Kyoto home-cooked dishes), together with an assortment of delicious alcohol. They always have at least 20 varieties of [Ichiya-boshi] - from classic fishes like shima hokke (atka mackerel) and shishamo (smelt) with roe, to seasonal fishes like amadai (tilefish) and okamasu (barracuda). Each table in the restaurant has a hot plate, so you can enjoy freshly grilled seafood. Every day, they have around 10 kinds of [Obanzai] that consist of Kyo-Yasai or seasonal vegetables. The restaurant is also known for its rice cooked in an iron pot, made upon order, which is fluffy and sweet.
Masoho Kyoto Branch
5. Kyo Oden Daisuke
Kyo Oden Daisuke offers reasonably-priced "Kyo-Oden" (Kyoto-style hot pot) that makes full use of the delicacy of Kyoto cuisine. It is said that the dashi (broth) brings life to the oden. Their dashi is made by slow-cooking grilled dried sardines, kelp (seaweed), and bonito for 3 hours. The dashi is then used to marinate the ingredients for the oden for about 2 days. Out of all of their oden ingredients, the collagen-rich [Suji Niku] (beef tendon) is a definite must-try, as it has a nice, soft texture and delicate taste. In addition, they also make use of ingredients unique to Kyoto, such as Kyo-dofu (tofu from Kyoto) and fresh yuba. They also have a wide variety of sake that go well with their oden.
Kyo Oden Daisuke
6. Kyo Gochisou Ishimaru
Ishimaru offers painstakingly prepared Japanese cuisine and hot pot dishes in a relaxing and harmonious dining atmosphere. They are known for their course meals and à la carte dishes made from seasonal ingredients sourced from all over Japan. Their dishes' beautiful appearances and flavors are in the style of Kyoto. The [Hassun] (traditional dish made of seasonal ingredients, served on an 8-inch platter) included in their course meals is colorful and rich in aroma and flavor. Try the [Maru Nabe], which is a hot pot made of suppon (soft-shelled turtle) that is rich in healthy fats. It does not have the distinct smell associated with turtle dishes, making it a good treat for everyone. Its taste is enhanced with grated ginger, giving the meat a refreshing flavor. The restaurant also offers seasonal dishes, such as [Kara-tsuki Uni] (sea urchin with the shell intact) and [Sliced Roast Duck].
Kyo Gochisou Ishimaru
7. Shikisai Dining Hitotose
Hitotose is an izakaya that offers Japanese cuisine, such as obanzai, and delicious alcohol. Their best dish is their [Shun-yasai to Meigara Buta no Seiro-mushi] (steamed seasonal vegetables with premium pork slices), seasoned with a refreshing shoyu-based sauce. Its meat is very juicy and tender when cooked, as they use the meat from Kyoto mochi-buta and Sangenton pigs (a crossbreed of 3 breeds of pig), which are premium pig brands. Diners can also enjoy dishes made of seasonal vegetables and tender, savory Okutamba ji-dori (Okutamba chicken). One example is the [Zosui] (rice porridge), which gets its deep flavor from the umami-rich stock made of slow-cooked meat fat and vegetables. They also serve unique dishes like the [Nama Wasabi-don - Shinshu Azumino-san] (rice bowl garnished with horseradish that's been grated together with sugar, seaweed, and dried bonito), which is best enjoyed with a splash of shoyu. Why not challenge yourself by trying their [Uji Matcha Beer] that has generous dollops of Uji matcha (green tea) powder?
Shikisai Dining Hitotose
8. Masoho Hanare
Located a 3-minute walk away from Kyoto Station, Masoho Hanare is known to serve dishes made from carefully selected ingredients sourced from all over Japan. They offer [Ichiya Boshi] made from the best quality fish from all over Japan, as well as charcoal-grilled seasonal seafood. Another best-seller is the [Assorted Sashimi], which uses seafood taken straight from the restaurant's fish tank. They are also known for their [Kama-daki Ginshari] (white rice cooked in an iron pot), made upon order, as well as other dishes that are unique to Kyoto, such as obanzai and yuba ryori.
Masoho Hanare
9. Kyoto Ichoya
Located in front of Nishi Hongwan-ji Temple, Kyoto Ichoya offers a variety of simple and creative dishes that make use of yuba, nama-fu, tofu, Kyo-Yasai, and other traditional ingredients from Kyoto. The [Yuba Natto-don] (rice bowl dish wherein yuba that's been fried with a sweet and spicy sauce and fermented soybeans are mixed with egg) is famous, having appeared on the media several times. The [Yuba Soba] (buckwheat noodles generously topped with yuba), which is popular because of its fragrant aroma and mild taste, is only available on the lunch menu. They also offer a variety of Western-style creative cuisine like the [Nasu and Nama-fu Miso Gratin] (miso gratin with eggplants and wheat gluten).
Kyoto Ichoya
10. Gourmand Tachibana
Gourmand Tachibana offers French cuisine infused with Japanese elements that's served in the same manner as Kyoto-style Kaiseki cuisine. Under the concept of "local production for local consumption", they strive to only use ingredients produced in Kyoto. The vegetables used in their dishes are harvested by the restaurant's chef from the 400-year-old Higuchi Farm in Takagamine. These vegetables are known for their distinct aroma and sweetness. Dishes vary according to the season. One example is the [Kuroge Wagyu Sirloin no Ami-yaki Sencha no Kaori] (wire-net grilled Kuroge Wagyu beef sirloin with the aroma of sencha tea), which showcases the seasonality of sencha. Also, if you want to have a taste of the summer, do not miss the [Awabi no Saute to Nasu Sudachi no Kaori] (sauteed abalone and eggplant mixed with Kyo-Yasai), which has a refreshing aroma of sudachi (a type of Japanese citrus fruit).
Gourmand Tachibana
11. Teppan Hanaroku
Hanaroku is located inside Kanra Kyoto Hotel, which is north of Higashi Hongwan-ji Temple. They offer unconventional teppanyaki (ingredients grilled on an iron griddle) dishes using seasonal ingredients. The counter seating allows you to see the chef cook from start to finish, giving you a multi-sensory dining experience. Another attraction is their tableware, which are Kiyomizu-yaki (Kyoto-style ceramics), giving you a taste of Kyoto's traditional crafts. Their teppanyaki beef dishes made from Kyoto beef, which is known for its sweet taste and soft, marbled texture, is a must-try! They also have a variety of other dishes made from Kyo-Yasai and fresh seafood.
Teppan Hanaroku
12. Torisei Kyoto Tower Sando Branch
Torisei is famous for two things: their selection of sake that's directly sourced from a well-established brewery in Fushimi-ku, and their chicken dishes made from premium brand ji-dori. They have tanks that allow them to serve Junmai Daiginjo (a type of rice-based alcohol) and other unrefined alcohol brands straight from the tap, which match perfectly with most of their dishes. Whichever sake you choose, each shot has a smooth flavor that allows you to enjoy the taste of Kyoto. One of their must-try dishes is the [Toriniku no Koji-mushi] (chicken steamed in rice malt). A lot of diners love this dish, as it has a soft and juicy texture, thanks to the enzymes of the rice malt. They also offer [Yakitori] (grilled chicken skewers) basted in a sake-based house sauce, and [Torishio Wasabi no Tataki] (pan-seared chicken seasoned with salt and wasabi), which is another must-try dish that is crunchy on the outside and juicy on the inside.
Torisei Kyoto Tower Sando Branch
13. KYOTO TOWER SANDO BAR
This is the best place to visit if you want to enjoy a wide selection of rare and popular alcohol throughout the seasons. One of the recommendations is their carefully selected collection of sake, which were chosen after visiting various distilleries around Kyoto. Included in this collection are some ji-zake that are more than 300 years old! They also offer a selection of Kyoto draft beers and wines that were made to perfectly match Japanese dishes. One of their unique wines, made from white plum blossoms, is especially worth trying. You can also enjoy a taste of Kyoto with their various dishes, such as the [Sando Set] that comes with 4 different obanzai, as well as the ji-zake of the day.
KYOTO TOWER SANDO BAR
14. Ginnan
If you go on a 3-minute walk from Kyoto Station, you'll find this wonderful restaurant that offers creative Japanese cuisine using fresh seafood and famous Kyoto ingredients, such as yuba, nama-fu, tofu, and Kyo-Yasai. One of their must-try dishes is the [Nasu no Ebi Yuba Ankake] (eggplant, shrimp, and yuba dressed with a thick, starchy sauce). Every bit of goodness from the eggplant is brought out by the prawn and yuba dashi, so it has rich umami, despite its simple presentation. Other dishes such as the [Nama-fu no San-shoku Dengaku] (chewy nama-fu topped with miso paste) and [Nama-fu no Agedashi Yuba Ankake] (fried nama-fu topped with yuba in a thick sauce) are also worth trying. In addition to Japanese cuisine, they also offer some Western-style dishes like pizza, lasagna, and gratin.
Ginnan
15. Iiemon
Located about a 5-minute walk from Kyoto Station, liemon offers creative dishes made from tea that's sourced from a well-established tea store in Uji-shi. Their signature dish is the [Seiro no Ryokucha-mushi] (Kyoto mochi-buta pork steamed in dashi with green tea), which is known for its refreshing flavor coupled with the wonderful aroma of tea. In addition, they also offer a wide selection of dishes that use yuba, nama-fu, and Kyo-Yasai. If you are looking for a drink, you can try their popular [Matcha Beer] that combines the refreshingly bitter taste of beer with the aroma of matcha. The restaurant has a beer garden on the rooftop, so diners can enjoy cold beer while grilling their own meats.
Iiemon
Which restaurant would you like to check out? Go and experience Kyoto by having a taste of their unique dishes!
Disclaimer: All information is accurate at time of publication.