One of the most internationally recognized and widespread cuisines, Italian food is also ingrained in Japanese society.

Both Japanese and Italian cuisine share common elements, most notably, an emphasis on seasonality and simplicity. Japanese-Italian food adds its characteristic attention to detail, and a light, delicate touch. Similar to the way French food has permeated Japanese cuisine, Italian food is both faithfully represented, and given Japanese accents, such as incorporates local ingredients like mentaiko, yuzu citrus, myoga native ginger, shiso leaf and sakura ebi.


History of Italian Food in Japan
It made its way onto Japanese menus in the post war years, with the American GIs in Japan who brought with them the dishes of Italian-American food, as well as through the Italian restaurants established by former Italian prisoners of war in Japan. In addition to this, Japanese chefs with a piqued interest in Italian cuisine studied both domestically and in Italy, contributing to the growth of the flavors and techniques of Italian cooking in Japan.
French food, the other significant foreign fusion cuisine in Japan, was traditionally seen as haughty and lavish. With the bursting of the Asian economic bubble in the 1990s, people found a friendly, homey and less expensive alternative in Italian food.
These days, the reach Japanese-Italian food extends far beyond major cities like Tokyo and Osaka; it can be found everywhere from upscale restaurants, to casual bistros, Japanese izakaya, convenience stores and even cooked in homes.
Here are 8 delectable Japanese-Italian food classics where to eat them in Japan.
8 Japanese-Italian Food Mainstays
Pizza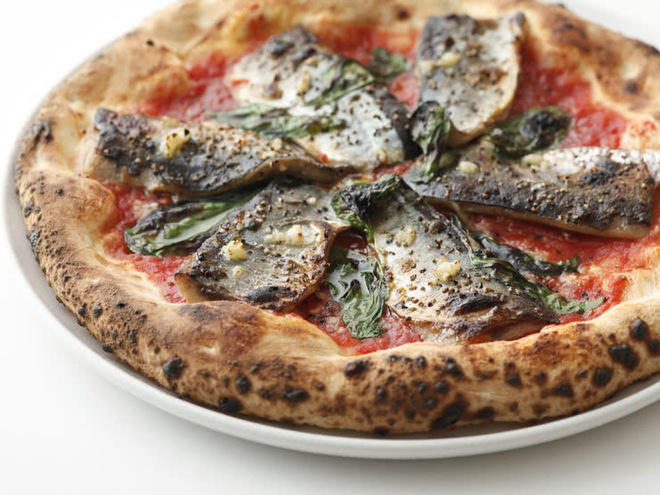 What started as a food seen a quick and practical takeout meal for the working poor in Naples—and viewed as 'disgusting' by wealthier observers of the time—has blossomed into one of the world's most popular foods. Essentially a dough base, topped with sauce and an array of ingredients then oven-baked, pizza has endless varieties and wide appeal. Pizza is also a staple of Italian food in Japan, where it comes in both more traditional forms and in an array of uniquely Japanese interpretations. Goichi Pizza in Kyoto has a 'Homemade Oil-Pickled Mackerel Pizza', which is topped with tomato sauce and whole mackerel fillets that they pickle in their own kitchen. Olive in Aichi serves a Shrimp and Mayonnaise Pizza, a popular Japanese pizza combination of rich tomato base topped with tender, sweet prawns, bound together and enhanced with creamy and umami Japanese mayonnaise.
Carpaccio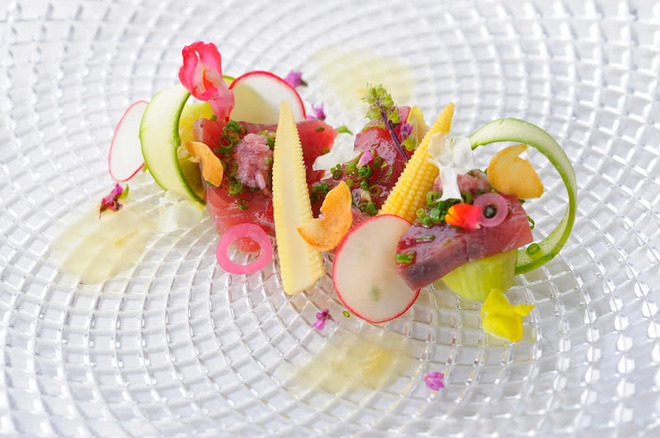 Carpaccio is a dish of raw meat such as fish, veal, venison, or vegetables, usually seasoned with lemon or vinegar, olive oil, salt and ground pepper, but may have additional and more elaborate seasonings such as cheese, herbs and truffles. Fish carpaccio and Japanese sashimi share enough similarities that the dish has fit seamlessly into Japanese cuisine, becoming a wonderful part of the Japanese-Italian food medley. Simple in its components, carpaccio--like sashimi--requires extremely fresh, well-presented ingredients. At Osteria Il Pagliaccio in Aichi, a 'springtime' carpaccio is served with Japanese Spanish mackerel, parsley, and butterbur sprouts. Ristorante Honda in Aoyama features a seasonal "Early Bonito and Spring Eggplant Carpaccio with Ginger and White Balsamic Vinegar", with the eggplants simmered in oranges and garnished with young corn.
Pasta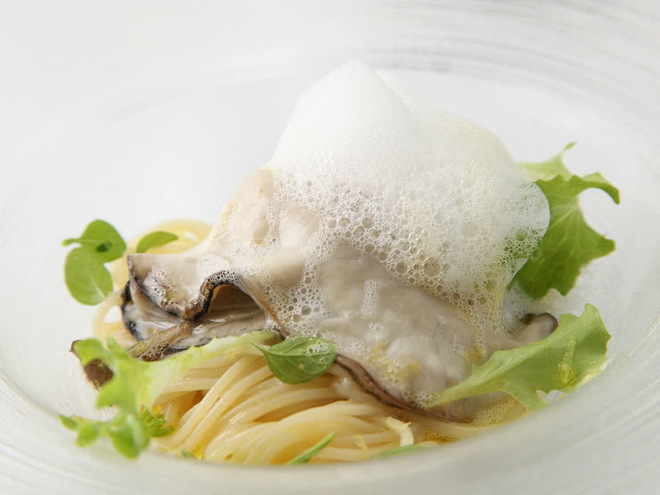 In a country teeming with bountiful noodle dishes, it's hardly surprising that Italian pasta dishes are very popular in Japan. They come served hot, cold, thin, thick and with a huge variety in ingredients and styles. Although there are plenty of Italian restaurants in Japan that serve the more traditional varieties, there is in fact an entire genre called wafu pasta, meaning Japanese-style pasta, that takes the Japanese-Italian food fusion to heart. Kanagawa prefecture's Clarita da marittima has a Spaghetti Carbonara, but adds an unconventional touch of whitebait, which are sourced from nearby Enoshima Island, and a shaving of black truffles - adding a touch of fishy flavor and richness to the dish. GLICINE, also in Kanagawa serves a unique dish of cold dish of Hiroshima oysters with lemon-accented capellini (extrafine pasta). The pasta is cooked in a sauce made from dashi and topped with a sprinkling of lemon juice, for "a taste of summer."
Ravioli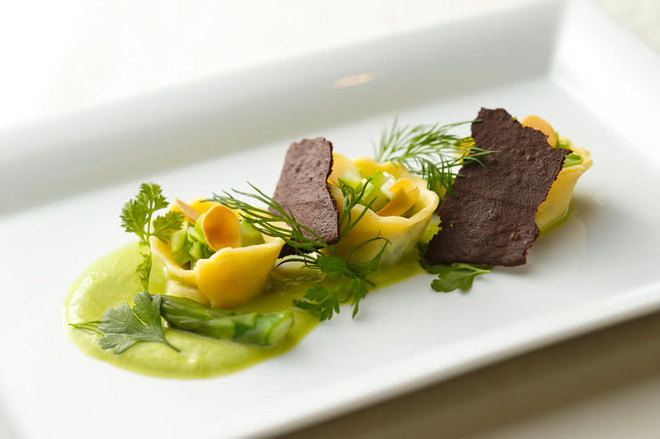 One of the most well-known of the hundreds of varieties of Italian pasta, ravioli—the name of which actually comes from riavvolgere, meaning "to wrap"—is made from sheets of pasta, wrapped around a center brimming with pureed vegetables, fish, meat, cheese, herbs or a combination, then boiled and served with a sauce. BIODINAMICO in Shibuya has a traditional-style 'Raviolone,' - a larger ravioli usually served in portions of one or two - filled with ricotta cheese, spinach and egg yolks and served with a generous helping of parmigiano cheese straight from the Italian city of Parma. Tokyo's Riva degli Etruschi boasts a unique ravioli dish emphasizing texture - fresh herb and ricotta ravioli is served with asparagus sauce and the luxurious addition of an almond and chocolate cialda (wafer).
Risotto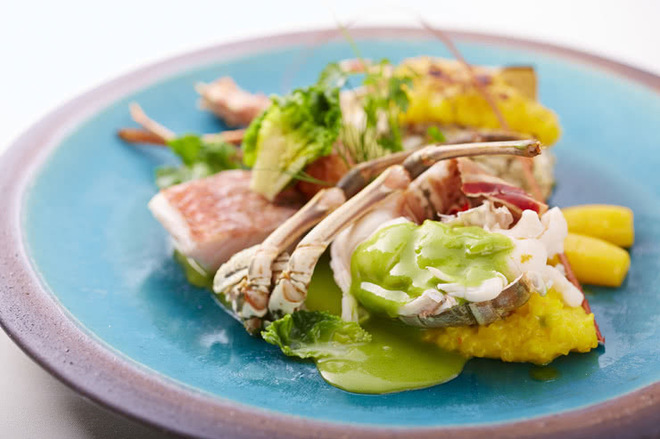 Rice has been a staple of the Japanese diet throughout the ages--so much so that meals take their name from rice (asagohan, hirugohan, bangohan—"morning rice", "lunch rice" and "dinner rice", respectively). Risotto is a staple Italian rice dish, and has been adopted with open arms as part of Italian-Japanese food fusion. During the June to September tomato season in Japan, Ristorante Yamazaki in Aoyama offers Broccolini Risotto served with tomato and sweet prawn confit; the dish is adapted for the different seasons by Chef Takatsuka. Okinawa's Verdemar marries lobster and Okinawan coastal fish with risotto and a shrimp tomalley, topped off with a refreshing mustard green sauce and served with vegetables. Trattoria Siciliana Don Ciccio in Harajuku has an Aubergine, Scamorza and Dried Tomato Risotto including plenty of aubergine, a leading ingredient in Sicilian cuisine and popular vegetable in Japan, and is flavored with oregano and dried tomatoes.
Antipasto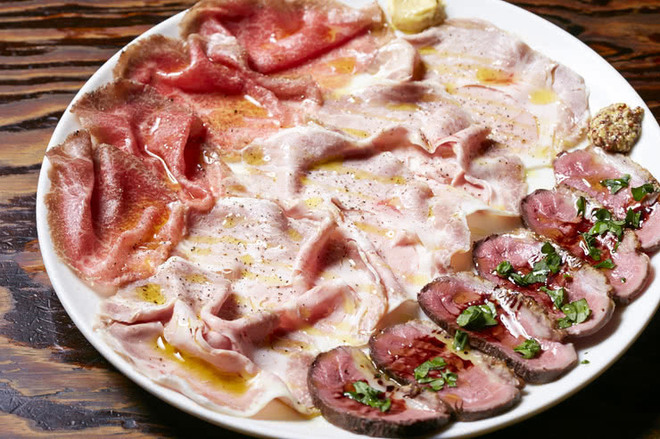 Antipasto are the foods offered before a meal—the Italian equivalent of French hors d'oeuvres—and literally means "before pasta." The foods served as antipasto are designed to stimulate the appetite and taste buds without filling the stomach. These are typically small, very colorful, with variations in texture, and served cold or at room temperature. Fresh melon or tomatoes, thinly sliced cured meats, cheese, and marinated or pickled vegetables and seafood are typical antipasto ingredients. DINING & WINEBAR totide in Ginza serves a more traditional-style antipasto, with their "Tagliere di formaggi italiani e salumi misti" - "selection of Italian dry-cured ham and cheese." BACAR OKINAWA serves a unique antipasto that showcases local meats--Okinawan beef, pork and duck are presented in a "platter of three kinds of homemade ham:" Honbu beef ham bresaola, Okinawan pork roast ham, and smoke Ie Island duck. This tasty triad is a perfect match with wine.
Brodo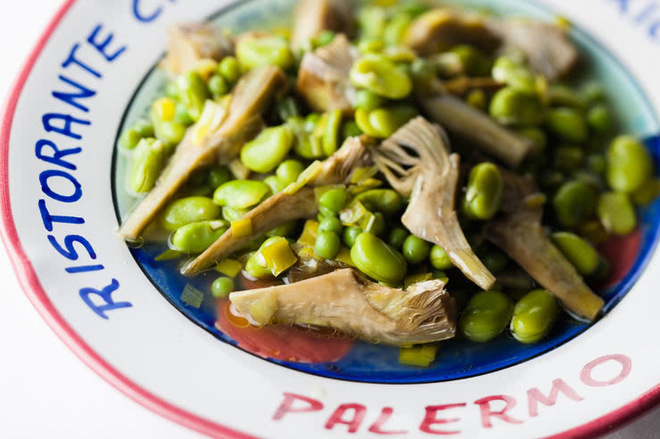 Brodo is an Italian word meaning 'broth,' and can be likened to Japanese dashi as a flavorful stock that is the fundamental building block for many dishes. Like dashi, it can also be served as a soup with various ingredients added. Finally, just as dashi comes made from a blend of base ingredients such as kombu, bonito flakes, dried sardines, shiitake mushrooms, brodo can be crafted from an equally diverse variety of seafood, beef, vegetable and chicken. Vineria t. v. b in Kyoto has a dish of Raw Sea Urchin and Young Shoots Bavettine, in which  brodo pesce (seafood bouillon) is a key element. Trattoria Siciliana Don Ciccio in Omotesando serves Frittula, a spring dish of peas, broad beans and artichokes simmered in a light brodo.
Lasagne
Lasagne, an oven-baked dish of alternating layers of pasta sheets, meat and cheese, is a pure Italian comfort food and one of the oldest styles of pasta; it is also a mainstay of Italian food in Japan. Traditionally, the ingredients layered with pasta are a meat ragu and bechamel sauce, finished with Parmigiano-Reggiano, but it may instead comprise any mixture of vegetables such as mushrooms, zucchini and pumpkin, and cheese such as ricotta and mozzarella. The Japanese-Italian food fusion of lasagna may come in many forms, such as the more traditional one served at Osteria Il Pagliaccio in Aichi. This dish is one the restaurant's top choices--chewy on the inside, crisp and flaky on the outside with its "golden balance of herbs, meat and pasta." To ensure the umami flavor permeates the dish, the herbs are added both while and the meat is cooking and after it is done; the result is a notably springy handmade pasta. The Lasagnetta of Porcini Mushrooms served at Antica Osteria Del Ponte in Marunouchi, which is flavored with blueberries, burrata cheese, and oil scented with pancetta and thyme, offers a less conventional interpretation of this classic dish.
Italian Food in Japan Has Never Been Better
While it may seem like a strange concept to come to Japan and eat Italian food, it is definitely worth taking a break from traditional Japanese food to try Italian-Japanese food. It's a deliciously eye-opening experience into the pairing of two very unique cuisines, and an intriguing demonstration of Japanese skill in the kitchen. This fantastic Japanese-Italian food fusion is actually just as effective with drink as well as food, where the low acidity of sake brings out the umami flavors in Italian food and makes it a good substitute for wine. Browse Savor Japan's complete list of Italian restaurants in Japan to sample this.