Sakura in Japan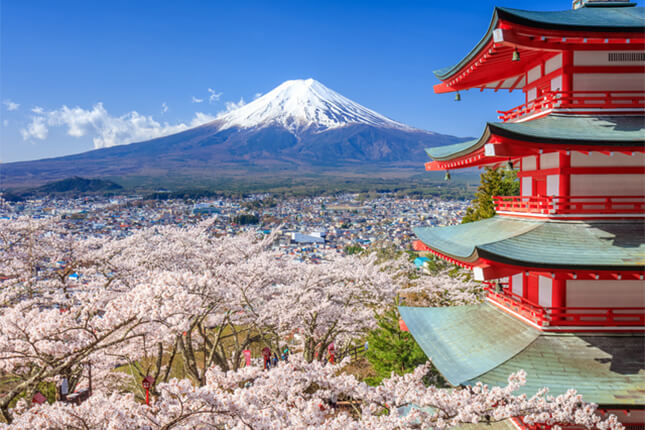 Hanami (flower viewing) is a popular spring event which Japanese have been enjoying for centuries. It was believed that Sakura was tree where the deity of rice paddies who came down from the mountain lives. Nobles in the Heian era (794 - 1185) loved Sakura as the symbolic flower of spring. They used to compose poems and enjoy hanami party with the deity. In the Edo era (1603 - 1867), formers welcomed the deity of rice paddies with the dishes and sake under the sakura trees, as a festival to pray for a good harvest. Later, hanami spread to ordinary people and became an indispensable spring event.
Types of Sakura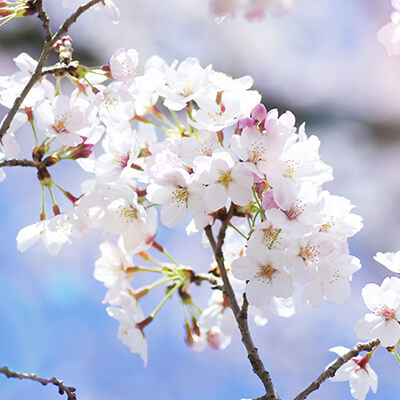 Somei Yoshino
It's a typical sakura and one of the most famous variety grown throughout Japan. The cultivation started between the end of the Edo era and the beginning of the Meiji era. Every year, it starts blooming around March 20 in Kyusyu and Shikoku area, then late March in Tokyo, and middle of April in Tohoku area finally. This variety is suitable for hanami or observation since it blooms all at once under the same conditions. Its five-petaled flowers bloom before the leaves. The color of the flower is pink, close to white.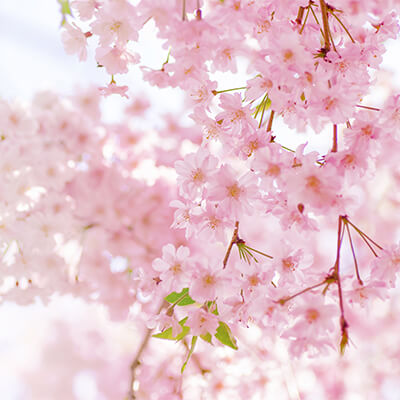 Shidare Zakura
It starts blooming from the end of March to April. ( 1 week earlier than Somei Yoshino.) As the name suggests, the branches are long and drooping ("shidare" means "to droop"). Shidare Zakura is a general term for Sakura which has the whippy branches and droops under its own weight. Most of them are varieties of Edo-higan, and the flower color is white and light pink. Yozakura (The night sakura) at Rikugien garden in Tokyo is famouse.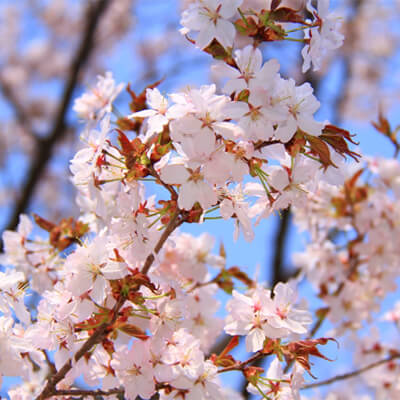 Yamazakura
This variety is distributed in Honshu further west than Miyagi, Shikoku, and Kyusyu. It can be spotted in Kanto area, Chubu region, and western Japan. As it grows naturally in the mountains, "Hanami" meant to watch Yamazakura in the old days until Someiyoshino appeared. The blooming starts in April from Kanto. The flower is light pink. One of the characteristics is that the leaves come out at the same time as blooming.
How to enjoy Hanami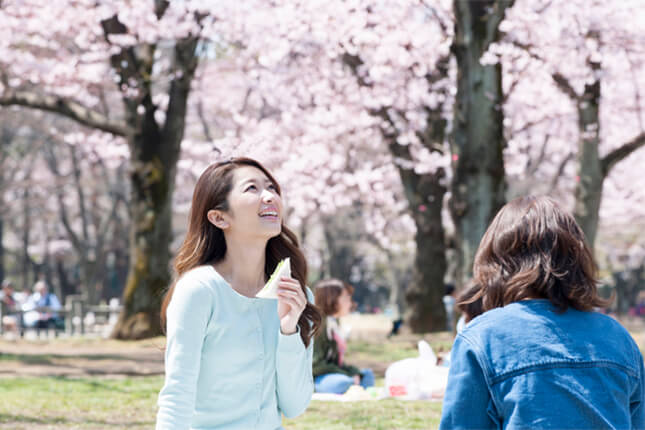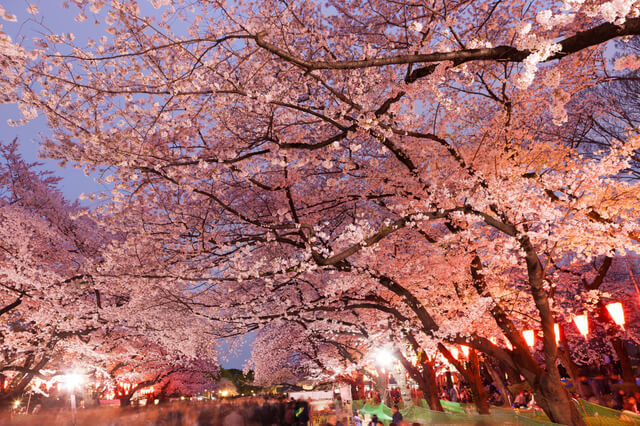 If you go to Hanami with a loved one, daytime is recommended. After taking enough time to walk along the riverside until the evening, go for a dinner in a fine restaurant, and you can have a great conversation. When you are with your family, you can enjoy picnic. Is it a typical Hanami style to have the handmade bento (lunch box) and beer under the sakura trees. Sometimes you can enjoy food strolls at the festivals during the peak bloom period. Don't miss Yozakura, illuminated sakura at night too!
Tokyo
Osaka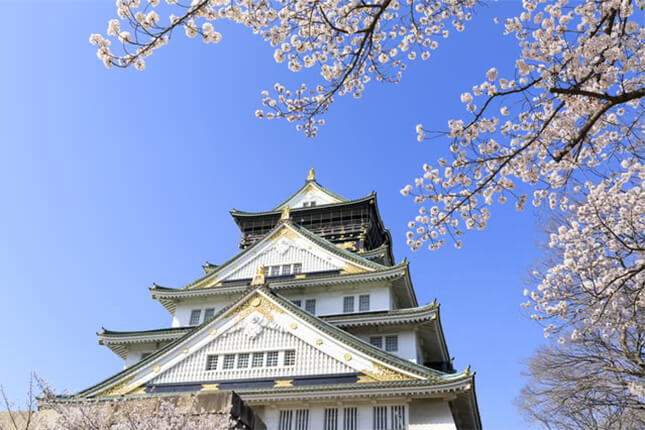 Osaka Castle Park(Osaka)
Osaka Castle is located in the central part of Osaka, which has several structures designated as important cultural properties. The Nishinomaru Garden is a notable site for its approx. 300 sakura trees. During sakura season, you can enjoy the lit up sakura in full bloom and the illuminated castle at the same time after dark.
 Access:10-minute walk from Tanimachi 4-chome Station on Osaka Metro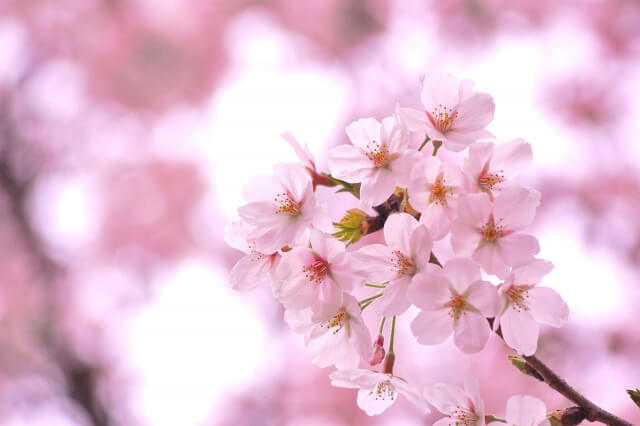 Shitennoji Temple(Osaka)
Shitennoji is the oldest Buddhist Temple in Japan. It is said that the prince Shotoku Taishi founded this temple to honor the shitenno; four heavenly kings of Buddhism. About 50 sakura trees bloom beautifully in the Gokurakujodo Garden, opened to the general public for a fee.
 Access: 12-minute walk from Tennoji Station on JR Lines
Kyoto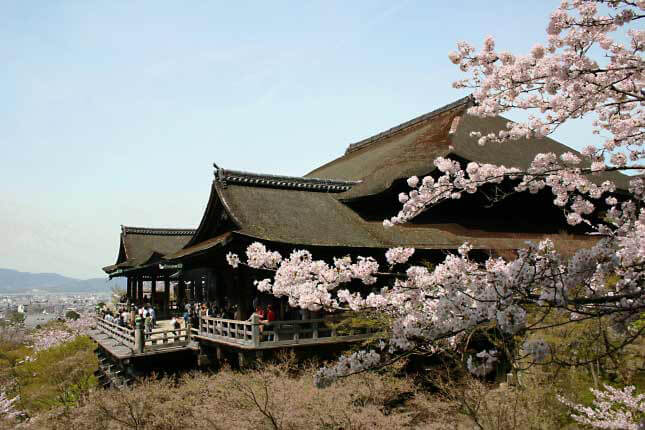 Kiyomizu-dera Temple (Kyoto)
Kiyomizu-dera is a UNESCO World Heritage site known as one of the most famous and historic temple in Kyoto. Approx. 1500 sakura trees beautifully bloom in spring on the vast premises. You can enjoy the gorgeous harmony with the structure of the temple. It is one of the best sakura spot in Kyoto city too. The place is lit up during sakura season.
 Access:Take a bus from JR Kyoto Station or Keihan Kiyomizu Gojo Station. Get off at Gojozaka stop and walk 10 minutes. / Take a bus from Hankyu Kawaramachi Station. Get off at the Kiyomizu-michi stop and walk 10 minutes.
Arashiyama (Kyoto)
You can fully enjoy the magnificent spring scenery of sakura at Arashiyama, designated as one of Japan's Top 100 Cherry Blossom Viewing Sites. It is recommended to view sakura over the Togetsukyo Bridge, a symbolic representation of Kyoto, and the Katsura River.
 Access:5-minute walk from Arashiyama Station on Hankyu Arashiyama Line or Keifuku Randen Arashiyama Line
Hokkaido
Goryōkaku Park(Hakodate)
Goryokaku is a fort shaped beautifully like a star with five ridges. It is very elegant and tasteful to see the surface of the moat filled with petals when sakura blooms in spring.
 Access:Take a Hakodate City Tram bound for Yunokawa in front of Hakodate Station. Get off after about 16 minutes at Goryokaku Koen Mae stop and walk for 15 minutes.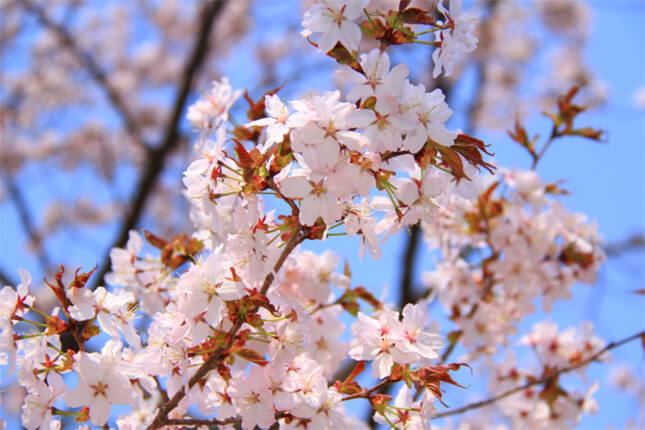 Maruyama Park(Sapporo)
This park is located north of the Mt. Maruyama Primeval Forest. There are about 150 sakura trees such as sargent cherry in the park. The best time to view sakura in full bloom is from late April to early May.
 Access:5-minute walk from Maruyama-Koen Station on the Sapporo Municipal Subway Tozai Line