From the chef
He decided to become a chef when he discovered the joy of customer service while helping out at his mother's restaurant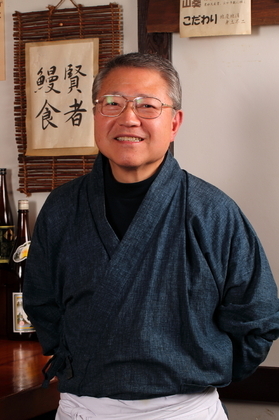 He was born in Shizuoka Prefecture in 1947. He aspired to become a chef when he started helping out at his mother's restaurant during his university years and discovered the joy of entertaining customers with food and drink. When his older brother took over his mother's restaurant, he went on to train at a long-established eel shop belonging to one of his relatives. After completing his training roughly 35 years ago, he opened his own restaurant in Gotemba called [Unagi no Hirota.] There, he has carefully preserved the secret sauce and techniques passed down since the Meiji Era, which he inherited from his place of training, and serves delicious eel dishes to customers on a daily basis with his naturally friendly smile.
廣田 保Tamotsu Hirota
Gotemba Eki Chikaku Unagi no Hirota
御殿場駅近く 鰻のひろ田 
Help desk

:
Savor Japan help desk can help English-speaking foreign visitors in Japan communicate with restaurants and make reservations between 9:00 am and 9:00 pm (Japan time. This is not a toll-free number).
Shop: 0550-83-3114 (+81-550-83-3114)
Bookmark
If you liked this restaurant, please join a member from "Sign in / Join" button. Then you can use bookmark.
Access

A two-minute walk from JR Gotemba Station. Leave the station from the Fujisan Exit and proceed along the street in front of the station. Look for the flags and banners by Fashion Plaza on the left; the restaurant is located on the second floor.
Cuisine

Japanese / Unagi (eel),Japanese / Yakitori (grilled, skewered chicken),Japanese / General / General,Japanese
Average price

Dinner: 3,000 JPY / Lunch: 2,000 JPY
Open

[Monday - Thursday, Sunday, National Holidays and the Day before National Holidays] Lunch 11:00 am - 2:00 pm (L.O. 2:00 pm) / Dinner 5:00 pm - 9:00 pm (L.O. 8:00 pm) Closes once eel has sold out. Diners arriving at 2pm / 8pm or later must call in advance
Closed

Wednesday
Address

870-1 Higashitanaka, Gotemba, Shizuoka map
Address (for taxi driver )

静岡県御殿場市東田中870-1
English services

Unknown.
Credit cards accepted

American Express / Diners Club / MasterCard / Visa
Features

Lunch / Smoking allowed / Reservations / Coupons/vouchers / Tatami room / course meals / Take out / Restaurants with Facebook pages
Other Japanese / Unagi (eel),Japanese / Yakitori (grilled, skewered chicken),Japanese / General restaurants in Numazu/Mishima/Gotenba/Susono, Shizuoka

Numazu / Gotenba, Shizuoka

General,Japanese / Wine / Sake / Shochu

Numazu / Gotenba, Shizuoka

General,Japanese / General / Sushi / Sashimi (raw fish)/Seafood

Numazu / Gotenba, Shizuoka

General,Japanese / Tempura (battered, fried seafood and vegies) / Sashimi (raw fish)/Seafood / Sushi