Appearance of restaurant
Nearest stations
JR Tokaido Line - Hikone station - 10-minute walk

Omi Railway - Hikone station
Kyoto-style Kushikatsu Waka
京風串かつ 若
Cuisine

Japanese / General,Japanese / Kushiage (deep-fried skewers) / Japanese,Japanese
Average price

4,000 JPY
Open

5:00 pm - 11:00 pm (last order 10:00 pm)
Since the course dish is the main store, please visit us by 9:30 for the final visit time. Please call me if you like it.
Other 5:00 pm - 10:00 pm (last order 9:00 pm)
We are currently shortening business hours due to the influence of corona. Please contact us by phone.

Closed

None
However, December 31 and January 1 are closed
Address (for taxi driver )

滋賀県彦根市旭町570

map
Phone Number
English services

Unknown.
Credit cards accepted

American Express / Diners Club / MasterCard / Visa
Features

No smoking / Child friendly / Coupons/vouchers / Tatami room / Kotatsu (heated table) / Counter seating available / course meals / All you can drink / Large shochu selection / Large sake selection

*Please add a special request for inquiries regarding smoking/non-smoking.
Other Japanese / General,Japanese / Kushiage (deep-fried skewers) restaurants in Hikone/Taga/Aisho, Shiga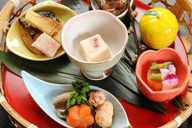 Kusatsu / Ritto, Shiga

Japanese,Japanese / General / Nabe (hot pot) / Kaiseki (traditional multi-course meal)