Help desk

:
Savor Japan help desk can help English-speaking foreign visitors in Japan communicate with restaurants and make reservations between 9:00 am and 9:00 pm (Japan time. This is not a toll-free number).
Shop: 0154-22-5004 (+81-154-22-5004)
From the chef
A penchant for cooking during his elementary school years sparked Terashima's desire to become a professional chef.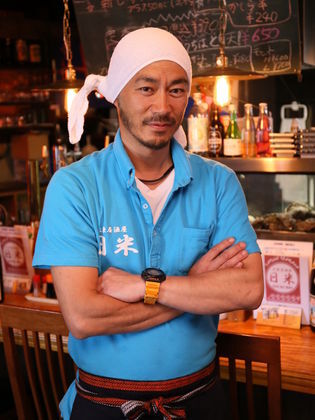 Hailing from Hokkaido, Terashima had an interest in food even when he was still in elementary school, and could frequently be found trying out new recipes in the kitchen. In 1992, he opened his own bar, where he was enthusiastic about not only his drinks menu, but also his food menu. After 21 years of managing the bar, he decided to try something new and reopened the bar as Taishuizakaya Nichibei on November 12th, 2014. Terashima's vision for his restaurant is that it will be a place where customers can relax, no matter who they are or what kind of background they have, much like the places he used to visit in Shitamachi in Tokyo, where he lived in his younger years.
寺嶋 功悦Terashima