Hirosaki
Hirosaki Castle with the donjon built in Edo Period.
Historic and cultural castle town.
Area Map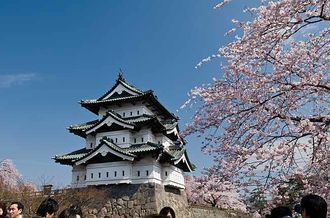 Hirosaki Castle, the symbol of the city, was built 400 years ago, and now it is a designated important cultural property. The donjon is open for visitors as Hirosaki Castle Museum where you can see katanas (Japanese swords) and armors that were actually used in battles. Hirosaki Park that is surrounding the castle is the most famous park in Japan for cherry blossoms and many tourists come to see the beautiful cherry blossoms in full bloom from all over Japan. In Hirosaki city, many western-style houses built in Meiji and Taisho Periods are remaining to this day, so strolling throughout the city and exploring these historic buildings is another recommended sightseeing option. You can obtain maps and informative brochures for free at the tourist information center on the first floor of JR Hirosaki Station.
Address
1-1, Omotemachi, Hirosaki-shi, Aomori
Access from major landmarks
From Aomori station, Hirosaki station
Thirty-four minutes (via JR limited express Tsugaru)
Articles of Hirosaki
Learn more about the local culinary scene to get ready for your Japan trip.
Here are the articles to introduce the best restaurants in Hirosaki.
+ View more
- Close