Tateyama
A resort with warm and mild winter
surrounded by abundance of colorful flowers.
Area Map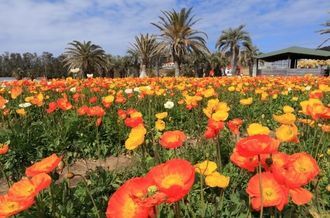 Tateyama, located near the point of the Boso Peninsula, is famous as a town of flowers. With the warm Japan Current flowing alongside the Pacific coast, the winter is warm and a wide variety of colorful flowers bloom throughout the year, including the yellow, beautiful rape blossoms in December. The driveway running along the coastline is named "Boso Flower Line," and it has been designated as one of the Top 100 Best Japanese Roads. You can enjoy driving your car with the beautiful scenery surrounded by the sea and many flowers. Tateyama is also well-known as a city of fishing. Off the coast of Tateyama is a very good fishing ground and the fish market at the port presents fresh marine products every day. The district is also crowded with more than 50 sushi restaurants competing for their taste. There's no wonder that many people visit Tateyama just for eating sushi.
Address
Tateyama station
1887,Hojo, Tateyama-shi, Chiba
Access from major landmarks
From Tokyo station to Kimitsu Station
・Sixty-eight minutes (via JR limited express Sazanami)
From Kimitsu Station to Tateyama Station
・Sixty-three minutes (via JR Uchibo Line)