Kita Kyushu
How about strolling and exploiting the history?
A port town where the present and the past are harmonized.
More restaurants
Area Map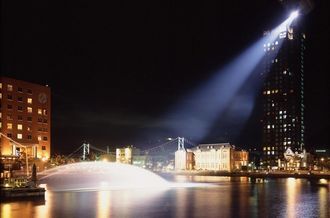 The northernmost city of Kyushu, Kitakyushu City is a city of rich natural environment surrounded by the seas and mountains. Prospered as an industrial city and supported the Japanese growth for a long time, Kitakyushu has always innovating for the future and exhibiting a special charm. The international commercial port Moji port embraces many historic buildings that remind you of the Taisho Romantic movement. At the Kyushu Railway History Museum, you will be excited to see the actual coaches that used to be travelling around Kyushu, and at the Kanmonkaikyo Drama Ship (straits museum) you can learn the history of Kanmonkaikyo strait with the dynamic sound, light, and visual effects. The center of the city, Kokura, used to be a castle town, and now it attracts many locals and tourists alike with a large scale commercial complex where you can experience the Japan's culture as well as enjoy shopping, foods and a range of amusements. In Yahata district, you can enjoy the theme park of space "Space World" and at the Kitakyushu Museum of Natural History and Human History you can learn the natural history. Each area in the city offers you unique attractions.
Address
Kokura Station
1-1, Asano, Kokurakita-ku, Kitakyushu-shi, Fukuoka
Access from major landmarks
Fukuoka Airport to Kokura Station
・From Fukuoka Airport to Hakata Station
・Five minutes (via Fukuoka-shi subway Airport Line)
・From Hakata Station to Kokura Station
・Fifteen minutes (via JR Shinkansen Nozomi)