Kushiro
Kushiro Marsh - Japan's largest wetland, registered under the Ramsar Convention
awaits your visit with its unchanging ancient scenery.
More restaurants
Area Map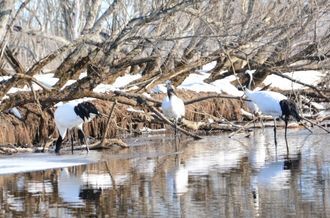 Kushiro Marsh, Japan's largest wetland of 29,000 hectare (about 71,660 acre), is a sanctuary of a wide variety of animals and plants, and the first region in Japan to be registered under Ramsar Convention in 1980. It is located about five-kilometer away from the center of Kushiro city, and you can stroll around the wetland with the walkways set through the area. We suggest you to visit the observation/exhibition facility at the entrance where you can find the history of the marsh and its animals and plants. From April to September and from the last part of September to the last part of October, you can enjoy the spectacular scenery on "Kushiro Marsh Norocco" trolleys that take you to a slow, comfortable trip around the marsh.
Address
JR Kushiro Station
14-1 Kitaodori, Kushiro, Hokkaido
Access from major landmarks
From Tancho Kushiro Airport to Kushiro station
・Fifty minutes (via shuttle bus)