Hakone
A hot spring town of history and nature
where Charles Chaplin enjoyed his visit.
More restaurants
Area Map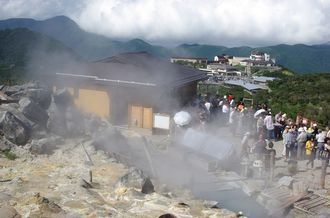 Hot spring is the number one enjoyment at Hakone. It is a good idea to stay multiple days at a hot-spring hotel and taste the delicious local cuisine, but it is also possible to use hot spring facilities for one day visitors. In Hakone, Owakudani is a good sightseeing spot well worth a trip. Owakudani is a volcanic valley created by the last eruption of Mt. Hakone about 3,000 years ago. As it is an active volcano, you can observe the gushing smoke, smell the sulphur and feel the huge energy of the earth. The specialty is Kuro tamago (lit. black egg). The boiled eggs turn black in the hot spring and smell slightly sulphuric. Eating one is said to increase your life span for 7 years. There are many more attractions in the area including the Hakone Open-Air Museum and Hakone Shrine - you may want to stay here for multiple days.
Address
Hakone-Yumoto Station
707, Yumoto, Hakone-machi, Ashigarashimo-gun, Kanagawa
Access from major landmarks
From Tokyo station to Odawara station
・Seventy-four minutes (via Tokaido Line)
From Odawara station to Hakone-Yumoto Station
・Thirteen minutes (via Hakone Tozan Railway)
Articles of Hakone
Learn more about the local culinary scene to get ready for your Japan trip.
Here are the articles to introduce the best restaurants in Hakone.
+ View more
- Close