Naha
Relaxed ambience of a Southeast Asian city; the center of Okinawa Prefecture.
More restaurants
Area Map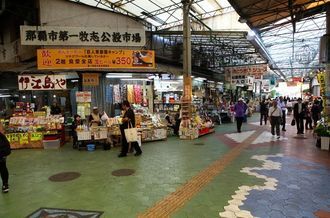 Naha City is the center of the Okinawa economy and also the hub for tourism. Kokusai-dori, a main street and the busiest street in Okinawa, is full of souvenir shops and is crowded with tourists. But you get sidetracked from Kokusai-dori and go deep into an arcaded shopping street, the air of the good old Okinawa remains intact. At the Makisi-Kousetsu-Ichiba, or the Makisi Public Market, a bustling market that gives you a familiar scene that the line of colorful fishes and chunks of pork are dangling from rooftops. In the Noren-Ichiba, or the Noren Central Market, a variety of Okinawa's original vegetables are available. These food markets remind you of the atmosphere of many Southeast Asian cities. Okinawa doesn't have a train system but the monorail will take you to anywhere you want to go including the airport, Kokusai-dori, and Shuri -- ancient capital of the Ryukyu Kingdom.
Address
Kenchomae Station
1-103, Kumoji, Naha-shi, Okinawa
Access from major landmarks
From Naha Airport to Kenchomae Station
Twelve minutes (via Yui Rail)
Articles of Naha
Learn more about the local culinary scene to get ready for your Japan trip.
Here are the articles to introduce the best restaurants in Naha.
+ View more
- Close