Izu
The finest quality resort with hot springs
and the most beautiful sunset in Japan.
Area Map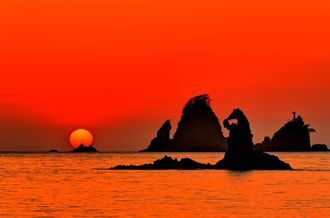 Atami, Ito, Atagawa, Shimoda, Dogashima, Shuzenji, Izu-Nagaoka...the list goes on. Everywhere around the Izu Peninsula is a hot spring heaven. Experience the relaxing hot spring and enjoy the cleaner air, glistening ocean and a rich natural environment. With the warm and mild climate, the resort area is full of flowers throughout the year, and hundreds of thousands of bathers enjoy the white beach during the summer. In Nishi-Izu (West Izu) area, you can enjoy the breathtakingly beautiful sunset - it is said to be the most beautiful sunset spot in Japan. Wherever you go throughout the peninsula, you find full of local fish and fruits. It's worth taking longer time to experience the finest quality resort area of Japan.
Address
Ito station
3-12-1, Yukawa, Itou-shi, Shizuoka
Access from major landmarks
From Tokyo station to Ito station
・Ninety-seven minutes (via JR express Super view Odoriko)