Naruto
Grandeur swirling current.
Energetic Awa Odori dance.
Area Map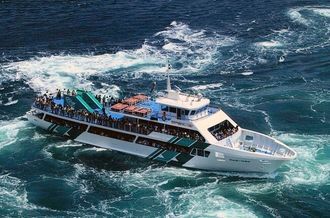 Naruto City is located at the northeast of Tokushima Prefecture and is a gate city to the Shikoku Island, connected to the Awaji Island of Hyogo Prefecture with the Onaruto Bridge. Naruto Park located in the north is designated as Setouchi National Park and is known for uzushio, a large swirling current, of Naruto Strait, Harima Nada, an open sea at north, and Kii Suido, which is a channel at east. In spring and fall, uzushio grow to the diameter of more than 20 meters when the flood tide takes place. The recommended viewing points for uzushio are from cruise ships and Uzunomichi, a walking track on the Onaruto Bridge. Uzushio is not the only feature Naruto offers. In summer, Awa Odori Festival is a must-see. Tokushima City is the first place to open the festival, then a series of Awa Odori festivals are performed throughout the prefecture. In the west of the city there is the first temple of the Shikoku 88-temple pilgrimage, Ryozenji, and the area is crowded with many pilgrims throughout the year.
Address
Naruto Station
256, Maehama, Muya-cho Ko-Kuwajima, Naruto-shi, Tokushima
Access from major landmarks
From Tokushima Station - Naruto Station
Forty minutes (via JR Naruto Line)