Toyama
Great nature and scenery, surrounded by sea and mountains.
More restaurants
Toyama Area Map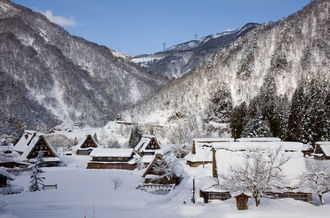 When you are in the village of Gassho-style houses with traditional steep rafter roof in Mt. Gokayama, which is a registered world heritage, and surrounded by the peaceful environment, you should feel as if you are out of the flow of time. Another sightseeing highlight is the fantastic mirage in Uozu. It requires multiple conditions to match for mirage to appear. The biggest sightseeing attraction in Toyama is the Tateyama-Kurobe Alpine Route. When you are in Toyama, you should try trout oshizushi (sushi rice and processed trout pressed in a mold). You can taste oshizushi as a box lunch sold at railroad stations, so you can enjoy the taste as well as the scenery from the train window.
Access from major landmarks
Narita International Airport - Toyama station
From Narita Airport to Keisei-Ueno station
Forty-one minutes (via Keisei Skyliner)
From Ueno station to Toyama station
One hundred twenty-six minutes (via JR Shinkansen Kagayaki)
Attractions in Toyama
Articles of Toyama
Learn more about the local culinary scene to get ready for your Japan trip.
Here are the articles to introduce the best restaurants in Toyama.
+ View more
- Close
Toyama - Chef's Recommendation
Here, we introduce the truly delicious cuisine recommended by the chefs.