Dazaifu Tenmangu Shrine
History, nature, festivals, art...
Multi-faceted "God of Learning".
More restaurants
Area Map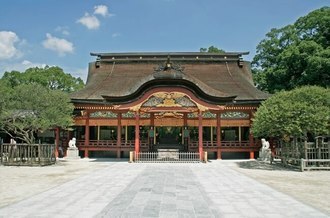 Dazaifu Tenmangu shrine is the head shrine of approximately 12,000 Tenmangu shrines all over Japan, enshrining the God of Leaning, Michizane Sugawara. It is worshipped as the God of Leaning, sincerity and warding off evil, and approximately 7 million people per year visit here, both from Japan and other countries. You can enjoy many attractions and seasonal events throughout the year including many historic treasures and buildings maintained more than 1,000 years, bean throwing festival and summer festival. And from the end of the winter to the beginning of the spring, the precinct is filled with a range of colorful flowers, providing you a season-specific beauty. The Kyushu National Museum adjacent to the shrine is a center of the contemporary art.
Address
4-7-1, Saifu, Dazaifu-shi, Fukuoka
Access from major landmarks
Hakata Station - Dazaifu Tenman-gu Shrine
・From Hakata Station to Tenjin Station
・Five minutes (via Fukuoka-shi subway Airport Line)
・From Tenjin Station from Nishitetsu-Fukuoka Station
・Five minutes (via walk)
・From Nishitetsu-Fukuoka Station to Nishitetsu-Futsukaichi Station
・Twenty minutes (via Nishitetsu Tenjin Omuta Line express)
・From Nishitetsu-Futsukaichi Station to Dazaifu Station
・Five minutes (via Nishitetsu Dazaifu Line)
・Exit Dazaifu station, five minutes walk
Articles near Dazaifu Tenmangu Shrine
Learn more about the local culinary scene to get ready for your Japan trip.
Here are the articles to introduce the best restaurants near Dazaifu Tenmangu Shrine.
+ View more
- Close
Videos
SAVOR JAPAN merged with Cozy Japan, a travel information site on November 28, 2017.