Mt. Fuji (Shizuoka)
The number one mountain in Japan
Registered as a UNESCO World Heritage.
More restaurants
Area Map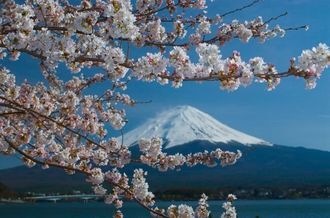 Mt. Fuji, with an elevation of 3,776 meters (12,388 ft.) and a broad base that straddles Yamanashi and Shizuoka Prefectures, is the tallest mountain in Japan. With the attractive, beautiful ridgelines, it has long been the object of Mt. Fuji worship. Its cultural value has been globally recognized, and it's been registered as a World Heritage. Of course, Mt. Fuji is not a mountain just viewing from a far distance. You can climb Mt. Fuji, too. Viewing the sunrise from the summit is called "Goraiko", making it a highlight of Mt. Fuji climbing. Mt. Fuji is open for climbing from the beginning of July to the beginning of September. The period varies depending on the remaining snow. The climbing season is in summer, but with its high elevation, you need an appropriate equipment to protect yourself from the climate change, etc.
Access from major landmarks
From Tokyo station to Shinjuku station
・Fifteen minutes (via JR Chuo Line Rapid)
From Shinjuku to Otsuki station
・Fifty-five minutes (via JR special express Kaiji)
From Otsuki station to Fujisan station
・Forty minutes (via Fuji Kyuko Fuji special express)
Attractions near Mt. Fuji (Shizuoka)
Whether it will be your fist visit to Japan or you're already an experienced connossieur, our guide to things to see and places to go in Japan will cover all what you might need to know.
Landmarks
Articles near Mt. Fuji (Shizuoka)
Learn more about the local culinary scene to get ready for your Japan trip.
Here are the articles to introduce the best restaurants near Mt. Fuji (Shizuoka).
+ View more
- Close