Akita Museum of Art
World-famous painter, Fujita Tsuguharu.
The big wall painting "Events in Akita" is exhibited.
Area Map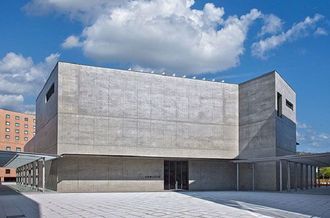 Akita Museum of Art exhibits 105 works including the 1930's paintings of Fujita Tsuguharu , worldly famous painter. Among his works, "Akita no gyoji", the events in Akita, is the best masterpiece. The work is the mural painting with 3.65m by 20.5m, featuring Akita's representative events including the famous Kanto Festival, Bonten (Barma-Deva) festival, and dog sleds by local Akita dogs. This bold work is worth visiting. Other exhibitions are Fujita's collections like clay figure dolls and related materials of Latin America. In the museum, there are a cozy cafe and a library. So take your time.
Address
Akita museum of art
1-4-2 Nakadori, Akita City, Akita, Japan
Access from major landmarks
It's a ten-minute walk from JR Akita Station