Peace Park
Prayer for the atomic bomb victims, an oath for lasting peace.
More restaurants
Area Map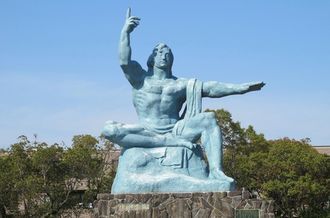 It's a park constructed on a hill to the north of the ground zero of the atomic bombing of Nagasaki, on August 9, 1945. On August 9 every year people from all over the world gather at the park to join the memorial service and pray for the eternal world peace. In front of the entrance is the Peace Memorial Statue; the right arm pointing to the sky means "the menace of the atomic bombs," the horizontally extended left arm means "the peace on the ground," and the closed eyes mean "the peace for the victims." The Peace Fountain in front of the statue is for the consolation of the spirits of the victims who died while seeking for water. When you come to the park, you can never miss to visit Nagasaki Atomic Bomb Museum. It'll give you a good opportunity to objectively and scientifically think about peace.
Address
Peace Park
2400-3, Matsuyamamachi, Nagasaki-shi, Nagasaki
Access from major landmarks
Nagasaki station - Peace Park
From Nagasaki station to Matsuyamamachi Station
Three minutes (via Streetcar)
Nagasaki station - Nagasaki Atomic Bomb Museum
From Nagasaki station to Hamaguchimachi Station
Five minutes (via Streetcar)

Attractions near Peace Park
Whether it will be your fist visit to Japan or you're already an experienced connossieur, our guide to things to see and places to go in Japan will cover all what you might need to know.
Destinations
Articles near Peace Park
Learn more about the local culinary scene to get ready for your Japan trip.
Here are the articles to introduce the best restaurants near Peace Park.
+ View more
- Close