Kintaikyo Bridge
A wooden bridge built 300 years ago, keeping in harmony with four seasons.
More restaurants
Area Map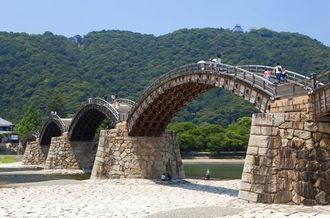 Kintaikyo bridge, one of the three best bridges in Japan, is a wooden bridge built on a stone foundation. The most prominent feature is its unique structure of the five consecutive arches. It was built by applying robust building technics and structures, which are perfect from the present mechanical technology's point of view. It is amazing that such a perfect construction was achieved 300 hundred years ago, without any computers. The technological strength is not the only attractive point the bridge offers. The beautiful appearance that is perfectly keeping harmony with the surrounding nature is another great attractive point. The best season is in spring when the bridge is surrounded by cherry blossoms in full bloom.
Address
Kintaikyo Bridge
1, Iwakuni, Iwakuni-shi, Yamaguchi
Access from major landmarks
Yamaguchi Station - Kintaikyo Bridge
From Yamaguchi Station to Shin-Yamaguchi Station
Twelve minutes (via JR limited express oki)
From Shin-Yamaguchi Station to Shin-Iwakuni Station
Thirty-one minutes (via JR Shinkansen Kodama)
From Shin-Iwakuni Station to Kintaikyo Bridge
Thirteen minutes (via bus)

Articles near Kintaikyo Bridge
Learn more about the local culinary scene to get ready for your Japan trip.
Here are the articles to introduce the best restaurants near Kintaikyo Bridge.
+ View more
- Close