Hiroshima Peace Memorial Museum
A museum where you can learn everything about the A-bombed city of Hiroshima.
One of the must-visit sites when you are in Hiroshima.
More restaurants
Area Map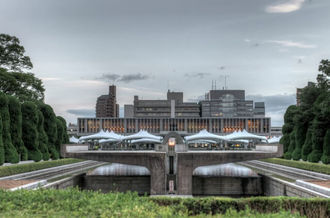 The museum is located in the same park with the Atomic Bomb Dome. There are a lot of materials on display to show the disastrous effect of the atomic bomb. One of the most impressive displays is the life-sized figures of the A-bomb victims who wander about the devastated city in fire, dragging their hideously burned skin. The fear-inducing scene gives a great impact on everybody.
There are a wide variety of displays in the museum including miniature models of the devastated city center of Hiroshima soon after the A-bombing, articles of the bomb victims, pictures, debris of the destroyed buildings, etc. Some visitors just go through the displays at a quick pace, but it's worth taking time to learn the reality of the atomic bomb. Captions are provided both in Japanese and English. Also an audio tour service in sixteen languages is available.
Address
1-2 Nakajimacho, Naka-ku, Hiroshima-shi, Hiroshima
Access from major landmarks
From the JR Hiroshima Station south exit on a bus "Peace Memorial Park"
Tram 5 minutes walk from Genbaku Dome-Mae ore Tram 3 minutes walk from Chuudenmae
Articles near Hiroshima Peace Memorial Museum
Learn more about the local culinary scene to get ready for your Japan trip.
Here are the articles to introduce the best restaurants near Hiroshima Peace Memorial Museum.
+ View more
- Close