Naritasan Shinshoji Temple
The symbol of Narita city
More than 1,000 years worship.
More restaurants
Area Map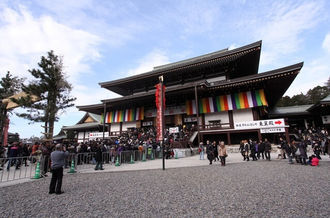 Naritasan Shinshoji Temple is a Buddhist temple built more than 1,000 years ago. Tens of thousands of visitors come to pray for business prosperity, success in life, better fortune or household safety throughout the year. The approaching road from JR Narita Station is always lively with many visitors and shops including restaurants, souvenir shops and pickle stores as well as the local specialty eel restaurants where the eels are cut and grilled in front of you. In the large precincts there are many facilities you may want to visit including Daihondo (the main hall of prayer), Shakado (a hall where a statue of Shakyamuni is enshurined) and Gakudo (a gallery where a number of votive picture tablets dedicated by celebrities of the Edo Period are displayed), so it is recommended to take your time and experience the ambience the historic temple gives you.
Address
Shinshoji Temple
1, Narita, Narita-shi, Chiba
Access from major landmarks
From Tokyo station to Narita Station
・Sixty-eight minutes (via JR Rapid Airport Narita)
・Exit Narita Station,ten minutes walk
Articles near Naritasan Shinshoji Temple
Learn more about the local culinary scene to get ready for your Japan trip.
Here are the articles to introduce the best restaurants near Naritasan Shinshoji Temple.
+ View more
- Close