SAVOR JAPAN
Editor's Picks
Chef's Recommendation
Here, we introduce the truly delicious cuisine recommended by the chefs.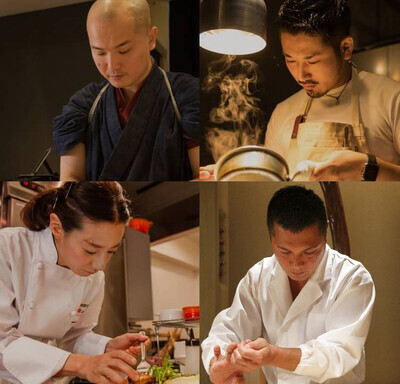 Learn more
Feature Stories
Learn more

The Deep Insights into Japanese Cuisine
Learn all about Japanese cuisine and hospitality in Savor Japan's in-depth videos.
The more you know, the more interesting it becomes.
Learn more
Japanese Dining Etiquette
Polish your Japanese table manners with tutoring from experts.
Impress your friends with your knowledge and skills.
Learn more

Discover Oishii Japan
Learn more
On the menu
Kani. The celebrative seafood.

Boiled kani (crabs) are often served at celebrations in Japan because of their decorative red shells. They are especially popular in winter when caught fresh around the country, but are enjoyed throughout the year as one Japan's finer seafoods. Zuwai (snow crabs), known for their long legs and sweet, refined meat, have different names in Japan depending on where they are caught. For example, they are called Matsuba crab when caught in the Sanin region and Echizen crab when caught in Fukui Prefecture. Zuwai crabs from Kanazawa are especially popular.
The ugly but delicious winter fish - ankou.

Ankou (monkfish) are related to grotesque deep-sea fish, but live at shallower depths ranging from 30 to 500 meters. In Japan, ankou are relished for their delicious flavor and no parts go to waste. In fact, the liver (ankimo) is a popular delicacy. Ankou is commonly mixed with vegetables and cooked at the table in ankou-nabe (hot pot). Its flesh is most flavorful from November to February, but Japanese especially enjoy warming themselves with ankou-nabe in January and February, the coldest months of the year.
Chanko-nabe. Fuel for sumo wrestlers.

Japan's mammoth sumo wrestlers need tons of nutrition and energy to bulk up and battle each other in the ring. In accordance with tradition, they live and train in sumo-beya (stables) where they push themselves to the limit and eat to their hearts ' content. All of the dishes they cook are called chanko, and the most popular dish is protein-rich chanko-nabe (one-pot dish), which is eaten in vast quantities with rice. The recipe varies, but contains dashi or broth and is packed with various meats, seafood, tofu and vegetables. You can try chanko-nabe at restaurants, and we especially recommend those run by retired sumo wrestlers.
Learn more

Japanese food glossary
Japanese enjoy foods in season.
Learn about the seasonality of Japanese ingredients.
See more same-season foods

More to Savor

Japan Info