SAVOR JAPAN
Editor's Picks
Chef's Recommendation
Here, we introduce the truly delicious cuisine recommended by the chefs.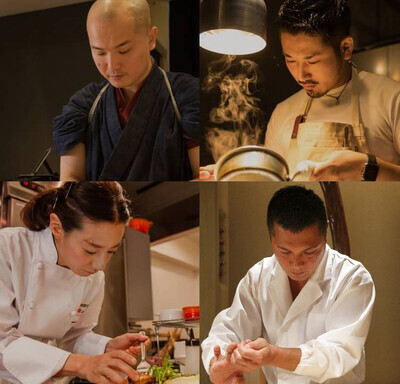 Learn more
Feature Stories
Learn more

The Deep Insights into Japanese Cuisine
Learn all about Japanese cuisine and hospitality in Savor Japan's in-depth videos.
The more you know, the more interesting it becomes.
Learn more
Japanese Dining Etiquette
Polish your Japanese table manners with tutoring from experts.
Impress your friends with your knowledge and skills.
Learn more

Discover Oishii Japan
Learn more
On the menu
The perfect fish for summer festivals. Hamo.

Hamo (pike conger) dishes are commonly served in the latter half of July during the Gion festival in Kyoto and Tenjin festival in Osaka - two of western Japan's three major annual festivals. Since hamo stays alive in warm water, even under the scorching sun, it was just about the only fish served fresh in Kyoto and Osaka before modern transportation arrived. This made it a favorite dish at summer festivals.
Hamo is mainly caught offshore in western Japan. It looks much like unagi (eel) or anago (conger eel), but has a lighter meat that is easier to eat. The most common summer recipe for hamo is yubiki, which is lightly simmered with plum meat. When deboned and lightly boiled, the meat curves back like a flower petal as shown in the photo. Hamo is both delicious and nutritious, bringing joyous relief to revelers in the summer heat.
Karei. One of Japan's flat-out favorites.

Light and tasty, containing little oil but plenty of stress-releasing vitamin B1, karei (flounder) is a favorite among men and women of all ages throughout Japan. The lightness of the meat makes it popular among the sick and elderly, and women love it for the fullness of its skin-beautifying collagen. The most common recipe for karei, which is mainly harvested in Hokkaido, is a sweet and rich simmered dish called nitsuke. The fins of karei, known as engawa, are a delicacy when served raw as sushi. Visitors to Japan are encouraged to try delicious karei at least once during their stay.
The chicken worthy of a hero's last meal.

According to tradition, shamo chicken was originally brought to Japan in the early Edo era from Siam (Thailand) as a fighting breed. It was later bred for poultry, creating a meat that is highly nutritious and loaded with protein. Legend has it that one of Japan's most popular historical figures, Ryoma Sakamoto, stated his desire to eat shamo chicken before dying from a mortal wound. Shamo chicken lovers are especially fond of hot pot recipes, which give the meat a delightful texture both crunchy and chewy.
Learn more

Japanese food glossary
Japanese enjoy foods in season.
Learn about the seasonality of Japanese ingredients.
See more same-season foods

More to Savor