SAVOR JAPAN
Editor's Picks
Chef's Recommendation
Here, we introduce the truly delicious cuisine recommended by the chefs.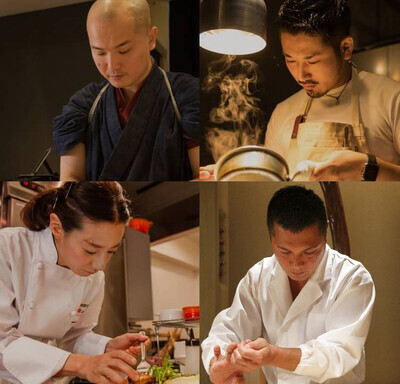 Learn more
Feature Stories
Learn more

The Deep Insights into Japanese Cuisine
Learn all about Japanese cuisine and hospitality in Savor Japan's in-depth videos.
The more you know, the more interesting it becomes.
Learn more
Japanese Dining Etiquette
Polish your Japanese table manners with tutoring from experts.
Impress your friends with your knowledge and skills.
Learn more

Discover Oishii Japan
Learn more
On the menu
Great things come in pairs - of clamshells

Tender hamaguri clams redolent of wide-ranging coastal waters spawn from May to October, and are most delectable from February to April. As customary treats for Hinamatsuri (Doll Festival celebrating girls' growth every March 3), they give celebrants fine reasons to feel lucky. Served in soup at wedding parties, hamaguri are eternal symbols of fufu wago (marital harmony) for couples that hope to be as naturally compatible as the pair of shells that contain their distinctive delicacy.
Crunchy chrysanthemum greens for a fresh sense of spring

Whoever invented the Chinese character for both 'spring' and 'chrysanthemum' likely considered those subjects inseparable after experiencing the delightful smell and taste of fresh shungiku chrysanthemum greens blooming as the weather warmed. Now, various kinds of shungiku grow from November to March in Japan, lending fresh crunch and astringent taste to sukiyaki, fugu (blowfish) nabe and other hot pot dishes, stir fries, fresh salads and tempura.
Creamy, delectable Hakkinton pork* more precious than platinum

What makes Hakkinton (or platinum) pork one of the finest breeds of pork? Pigs carefully bred and raised on sprawling farms in the natural environs of the Ouu mountain valley in the town of Hanamaki, Iwate Prefecture. A diet rich in minerals and spring water. Beautiful marbling for buttery soft, smooth texture. Delectably fragrant, mildly sweet flavor. No wonder seasoned gourmets around the world love it for tonkatsu deep-fried cutlets, shabu shabu hot pots, roast pork and other meaty dishes.
* A product of Takagen Seibaku Co., Ltd.
Dine like a gourmet on fresh Japanese spring vegetables only available in Japan.
Savor the catch of the season - Japan's quintessential seafood.
Learn more

Japanese food glossary
Japanese enjoy foods in season.
Learn about the seasonality of Japanese ingredients.
See more same-season foods

More to Savor

Japan Info