SAVOR JAPAN
Editor's Picks
Chef's Recommendation
Here, we introduce the truly delicious cuisine recommended by the chefs.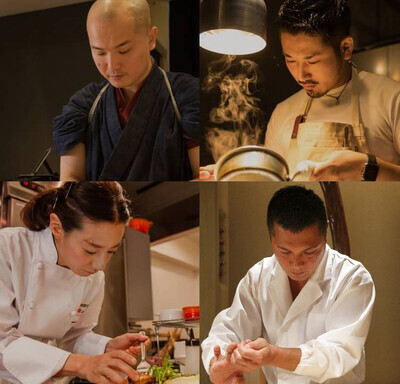 Learn more
Feature Stories
Learn more

The Deep Insights into Japanese Cuisine
Learn all about Japanese cuisine and hospitality in Savor Japan's in-depth videos.
The more you know, the more interesting it becomes.
Learn more
Japanese Dining Etiquette
Polish your Japanese table manners with tutoring from experts.
Impress your friends with your knowledge and skills.
Learn more

Discover Oishii Japan
Learn more
On the menu
The fish with a fatal attraction

Just as women find roses irresistible despite their thorns, Japanese gourmets eagerly brave the risk of deadly poison to dine on fugu (blowfish). The lives of many bravehearted connoisseurs have been claimed by the tetrodotoxin in fugu ovaries and liver. But proper restaurants with licensed chefs can be relied on for safe fugu, which is grilled, boiled, deep fried, dried, served in hotpots, fried in tempura batter or sliced fresh and served as fugusashi (fugu sashimi). Grilled hirezake (fugu fin in hot sake) is another favorite. Those trying fugu for the first time are encouraged to order it deep fried. But nothing compares with the beauty and flavor of thinly sliced fugu sashimi, artistically layered like flower petals on a plate.
Beef massaged to marbled perfection

The rumors are true. There are cattle in Japan that drink beer and receive massages to stimulate their appetite. Life is heaven for these spoiled heifers in Mie Prefecture until the butcher transforms their marbled flesh into wonderfully delicious Matsusaka beef, which ranks with Kobe, Hida and Oumi beef as one of Japan's finest brands of wagyu (Japanese beef). We recommend Matsusaka beef sukiyaki, but the steak and shabushabu are also superb.
Scallops. The jewels of the sea.

A symbol of fertility in ancient western mythology, hotate (scallops) are most delicious when harvested in January. The winter is their breeding season, when their meat becomes especially thick and tasty. It takes about 3 to 4 years for hotate to become ready for harvesting (12cm in diameter). A popular sushi, there is nothing more delicious than hotate sashimi when fresh. Hotate is also excellent when grilled, sauteed or added to salads and soups. At certain fish markets, you can also order hotate grilled in butter, with a bit of lemon and soy sauce. It's absolutely scrumptious! High in protein, low in calories and rich in vitamins and minerals, hotate are excellent for your health and strengthen the muscles.
Learn more

Japanese food glossary
Japanese enjoy foods in season.
Learn about the seasonality of Japanese ingredients.
See more same-season foods

More to Savor