SAVOR JAPAN
Editor's Picks
Chef's Recommendation
Here, we introduce the truly delicious cuisine recommended by the chefs.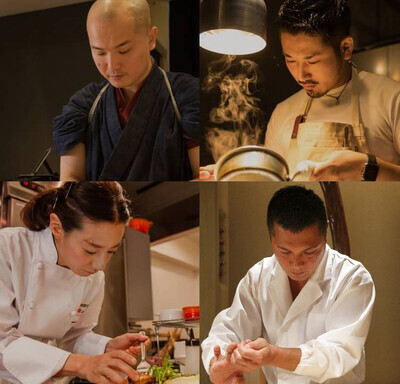 Learn more
Feature Stories
Learn more

The Deep Insights into Japanese Cuisine
Learn all about Japanese cuisine and hospitality in Savor Japan's in-depth videos.
The more you know, the more interesting it becomes.
Learn more
Japanese Dining Etiquette
Polish your Japanese table manners with tutoring from experts.
Impress your friends with your knowledge and skills.
Learn more

Discover Oishii Japan
Learn more
On the menu
Food grudges run deep

This phrase is often printed on Oumi -beef bento lunch boxes sold at train stations throughout Japan. It expresses the deep resentment of hungry samurai when Ii Naosuke, Tokugawa Shogun遯カ蜀ア Chief Advisor and lord of Oumi (now part of Shiga Prefecture) refused to present the Edo government with Oumi beef. According to folklore, his refusal even contributed to his assassination in the 1860 Sakuradamon incident.
The Oumi beef label only graces beef from kuroge-wagyu (Japanese black cattle) that spent most of their lives raised in Shiga Prefecture. Compared with Japan's other two major wagyu brands (Matsuzaka and Kobe), Oumi has a much longer history and meltier-in-your-mouth texture.
Bonito. The fish that never stops swimming.

Bonito never stop swimming, which may partially explain their super meaty bodies. The best-tasting bonito are the hatsu-gatsuo (first bonito) harvested in April and May. But returning bonito, or modori-gatsuo, caught off the Sanriku coast in August and September are also delicious.
Bonito meat is flavorful and full of beneficial DHA for the brain, taurine for the liver, EPA, Vitamin B12, Vitamin D and potassium. Japanese lightly grill it as tataki or dry it for use as flakes in wide-ranging dishes that play an essential role in Japanese culinary tradition. They also eat bonito raw as sashimi in various styles - with soy sauce and shoga (ginger), myoga (Japanese ginger buds), salt, ponzu (citrus-based sauce) or yuzukosho (citrus paste and pepper). While visiting Japan, we recommend trying lightly grilled bonito tataki at least once.
The king of Japanese mushrooms. Matsutake.

Wonderfully aromatic and unforgettably delicious, Matsutake is one of Japan's renowned autumn foods. It is also, unfortunately, expensive because it is harvested in the wild and difficult to find. The price varies every year between several thousand and tens of thousands of yen, depending on the size of the annual harvest.
When cooked, matsutake radiates a fresh, distinctive aroma that is loved by Japanese. It can be prepared in various ways, such as in soups, on rice, in hotpots, steamed, charbroiled, in sukiyaki or in tempura. The most popular way to enjoy its seasonal autumn aroma is by steaming it in an earthenware teapot as dobinmushi.
Learn more

Japanese food glossary
Japanese enjoy foods in season.
Learn about the seasonality of Japanese ingredients.
See more same-season foods

More to Savor

Japan Info