SAVOR JAPAN
Editor's Picks
Chef's Recommendation
Here, we introduce the truly delicious cuisine recommended by the chefs.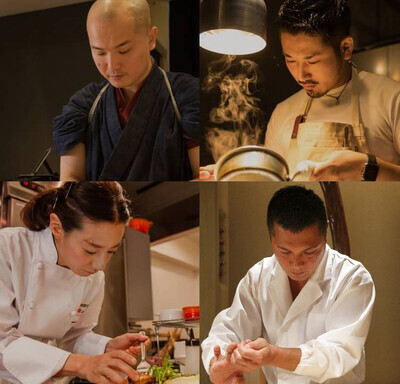 Learn more
Feature Stories
Learn more

The Deep Insights into Japanese Cuisine
Learn all about Japanese cuisine and hospitality in Savor Japan's in-depth videos.
The more you know, the more interesting it becomes.
Learn more
Japanese Dining Etiquette
Polish your Japanese table manners with tutoring from experts.
Impress your friends with your knowledge and skills.
Learn more

Discover Oishii Japan
Learn more
On the menu
Gorgeous Iseebi (Spiny Lobster) with an interesting Fishing method.

Iseebi (Spiny Lobster) is one of important aquatic resources. Chiba prefecture has the largest catch of Iseebi in Japan then, Mie prefecture.
Also, Iseebi is designated as prefectural fish of Mie (in 1990).
Back in the Edo period, in some writings a story is written about that Iseebi being sold at an extremely high price in Edo and Osaka. As Daimyo give away Iseebi as a gift of early spring.
Still Spiny lobster is known as decoration of New Year's and wedding because of the vivid red color when its boiled. There is an interesting way to fish Iseebi. divers wave a pole with an octopus on it and catch them with a net when they come out in shock as octopus is their natural enemy.
You can taste Iseebi in several cuisines such as Sashimi, Iseebi soup, Fried, Steak, Hot pot, and Paella.
Rice is the staple food in Japan.

Any rice harvested, milled and packaged in the same year is called Shinmai, or newly harvested rice.
There are about over 300 kinds of rice in Japan
However, they are adjusting to climate and natural features of the region to improve every day.
There are possibilities that in few years, few decades time from now you might still see whole new brand rice than what we have now.
Shinmai is one of the flavors of autumn during September to October.
How to wash, amount of water, take a little time to soak Shinmai rice in water, when it's cooked mix it immediately and leave it for a little to steam away etc Shinmai could be a delicate food.
But Shinmai is very plump and moist, and its soft but heavy texture makes it so special for Japanese people.
Sanma.The fish of Autumn.

Sanma is the most popular fish in antumn. The Chinese characters for Sanma, explains its character "sword shaped fish caught in autumn" caught in the Kesennuma area in Tohoku has the perfect fat that makes Sanma in Tohoku delicious. But it's not only tasty as a savor of autumn, sanma has a lot of nutrient which is good for your health. Also reasonable and easy to cook. Specially "Shioyaki" grilled with salt with lemon, soy sauce on top of "Daikon-oroshi" grated radish is perfect combination.
This Shioyaki is commonly known as people's favorite taste for long time.
Having Sanma as sashimi while they are fresh is only in this season.
Learn more

Japanese food glossary
Japanese enjoy foods in season.
Learn about the seasonality of Japanese ingredients.
See more same-season foods

More to Savor

Japan Info