Appearance of restaurant
Nearest stations
JR Keihin Tohoku Line - Urawa Station

JR Musashino Line - Higashiuriwa Station
Itarianresutorampinokio
イタリアン レストラン ピノキオ
Cuisine

Western / Italian,Western / Pasta,Western / Pizza / Italian,Italian/French
Average price

Dinner: 3,000 JPY / Lunch: 1,100 JPY
Open

5:00 pm - 10:00 pm (last order )
Food last order is at 21:30.
Lunch 11:30 am - 3:00 pm (last order 2:30 pm)
Lunch time service menu is until 14:00.

Closed

Thursday
(We will take a day off for year-end and new year and employee training.)
Address (for taxi driver )

埼玉県さいたま市南区広ケ谷戸3−3

map
Phone Number
English services

Unknown.
Credit cards accepted
Features

Lunch / No smoking / course meals / Large wine selection
Other Western / Italian,Western / Pasta,Western / Pizza restaurants in Urawa, Saitama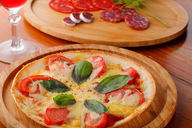 Saitama, Saitama

Dining bar,Dining bar / General / Italian / Pasta