Appearance of restaurant
Nearest stations
JR Hagen Line - Gunmaoka Station
Cuisine

Japanese / General,Japanese / Sushi / Sushi,Japanese
Average price

Dinner: 3,500 JPY / Lunch: 1,100 JPY
Open

[ Monday,Tuesday,Thursday ~ Sunday,Holidays,Day Before Holidays] 11:00 am - 9:00 pm (last order )
(14: 00-17: 00 are in preparation)
[ Monday,Tuesday,Thursday ~ Sunday,Holidays,Day Before Holidays] Lunch 11:00 am - 2:00 pm (last order )

Closed

Wednesday
We are also closed on the 1st and 3rd Tuesdays.
Address (for taxi driver )

群馬県藤岡市藤岡1618-5

map
Phone Number
English services

Unknown.
Credit cards accepted

American Express / MasterCard / Visa
Features

Lunch / No smoking / Child friendly / Coupons/vouchers / Tatami room / Kids menu / Take out

*Please add a special request for inquiries regarding smoking/non-smoking.
Other Japanese / General,Japanese / Sushi restaurants in Takasaki, Gunma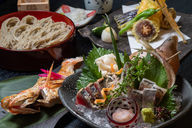 Takasaki / Tomioka, Gunma

Japanese,Japanese / General / Japanese Sosaku (creative)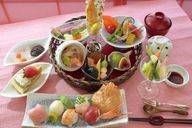 Takasaki / Tomioka, Gunma

Japanese,Japanese / General / Tempura (battered, fried seafood and vegies) / Kaiseki (traditional multi-course meal)