Appearance of restaurant
Nearest stations
Tokaido Main Line - Numazu Station

Gotemba Line - Ooka station
Numazu Izakaya Kappo Gin
沼津 居酒屋割烹 吟
Cuisine

Japanese / General,Japanese / Fugu (blowfish),Japanese / Suppon (soft-shelled turtle) / Japanese,Japanese
Average price

2,500 JPY
Open

5:00 pm - 11:30 pm (last order 11:00 pm)
Holidays · The day before holidays is also the opening hours of the day.

Closed

Sunday
It will be closed on Sundays. If Monday is a public holiday, it will be open the previous day on Sunday and closed on Mondays.
Address (for taxi driver )

静岡県沼津市大岡2132-2

map
Phone Number
English services

Unknown.
Credit cards accepted

American Express / Diners Club / MasterCard / Visa
Features

Lunch / Smoking allowed / Tatami room / course meals

*Please add a special request for inquiries regarding smoking/non-smoking.
Other Japanese / General,Japanese / Fugu (blowfish),Japanese / Suppon (soft-shelled turtle) restaurants in Numazu, Shizuoka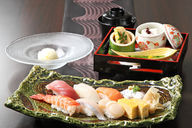 Shizuoka, Shizuoka

Japanese,Japanese / General / Sushi / Sashimi (raw fish)/Seafood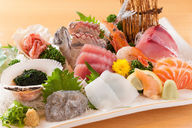 Shizuoka, Shizuoka

Japanese,Japanese / Tempura (battered, fried seafood and vegies) / Sashimi (raw fish)/Seafood / Sushi