Appearance of restaurant
Nearest stations
Kobe Electric Railway Aisho Line - Midorigaoka Station - 3-minute walk
Cuisine

French,Italian/French
Average price

6,000 JPY
Open

Lunch 11:30 am - 2:00 pm (last order )
Dinner 5:30 pm - 9:00 pm (last order )

Closed

Irregular
Address (for taxi driver )

兵庫県三木市緑が丘町中1丁目15-23

map
Phone Number
English services

Unknown.
Credit cards accepted
Features

No smoking / course meals / Large wine selection

*Please add a special request for inquiries regarding smoking/non-smoking.
Other restaurants in Miki/Ono, Hyogo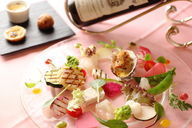 West Kobe / Miki , Hyogo

French,Italian/French / General / French / Western Sosaku (creative cuisine)
Articles of West Kobe/Miki
Learn more about the local culinary scene to get ready for your Japan trip.
Here are the articles to introduce the best restaurants in West Kobe/Miki .
+ View more
- Close