Kobe
Modern and stylish!
Old but new city with limitless attractions.
More restaurants
Area Map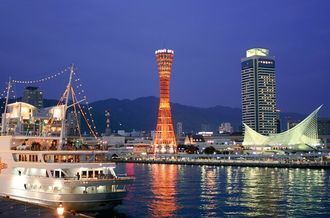 Ever since its open to the world in 1868, the city has grown to establish the unique style through absorbing a diverse foreign cultures. Sophisticated atmosphere of a port, the townscape with a full of exoticism, the nature-rich environment of the Rokko Mountains, Ikuta Shrine which origin goes back to thousands of years ago, Arima hot spring that the ancient ruler Hideyoshi loved, and the most famous city of sake brewery in Japan, Nada -- Kobe is full of attractions and new discoveries. You can enjoy the fashion, gourmet and sweets at Sannomiya, Motomachi and Rokko Island. Simply strolling around the streets of stylish shops, cafes and restaurants makes you happy and excited. In the Kitano area at the top of the slope, there are many traditional buildings including Kobe Kitano Museum, livening up your sightseeing experience to the highest level. You can also enjoy the night view with the JAZZ cruising -- It'll give you one of the most romantic experiences in your stay.
Address
Sannomiya Station
4-1, Nunobikicho, Chuo-ku, Kobe-shi, Hyogo
Access from major landmarks
Kansai Airport to Sannomiya Station
・From Kansai International Airport to Kansai Airport station
・Approx. Six minutes by walk
・From Kansai Airport station to Shin-osaka station
・Fifty minutes (via JR limited express Haruka)
・From Shin-osaka station to Sannomiya Station
・Thirty minutes (via JR Tokaido Main Line new rapid train)
From Kansai International Airport to Kobe Airport station
・Thirty minutes (via High speed ship bay shuttle)
From Kobe Airport station to Sannomiya Station
・Eighteen minutes (via Port Liner)
Articles of Kobe
Learn more about the local culinary scene to get ready for your Japan trip.
Here are the articles to introduce the best restaurants in Kobe.
+ View more
- Close
Videos
SAVOR JAPAN merged with Cozy Japan, a travel information site on November 28, 2017.