Kumamoto
Just at the center of Kyushu Island, surrounded by great nature of Mount Aso
More restaurants
Kumamoto Area Map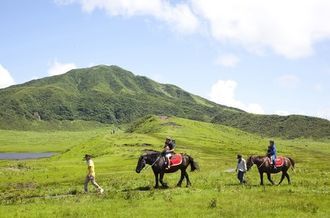 Sea and mountains, Kumamoto is popular with many sightseeing spots with the dynamic nature. Around the Mount Aso which has one of the biggest calderas in the world, there are hot springs and superb views, making it a standard sightseeing spot. At the sea-side, you can see the Amakusa Islands. Christianity has long been a main religion around the area, and you can find many historic buildings such as old churches that were built in the beginning of Showa era. Kumamoto is rich with many local foods as well, such as mustard lotus root (Karashi Renkon), horse-meat sashimi, and Dago-jiru soup, the soul food of the locals. You may want to visit a new world cultural heritage site registered in 2015, Miike Coral Mine, too.
Access from major landmarks
Fukuoka Airport - Kumamoto station
From Fukuoka Airport to Hakata station
Five minutes (via Municipal Subway)
From Hakata station to Kumamoto station
Forty-one minutes (via JR Shinkansen Sakura)
Attractions in Kumamoto
Articles of Kumamoto
Learn more about the local culinary scene to get ready for your Japan trip.
Here are the articles to introduce the best restaurants in Kumamoto.
+ View more
- Close
Kumamoto - Chef's Recommendation
Here, we introduce the truly delicious cuisine recommended by the chefs.
Videos
SAVOR JAPAN merged with Cozy Japan, a travel information site on November 28, 2017.