Nara City
A city where the present and the past are concentrated in the best harmonized way.
The best place for strolling around with a strong curiosity.
More restaurants
Area Map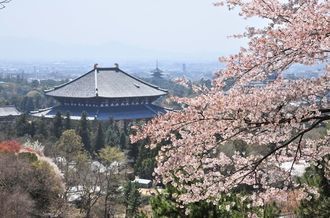 Nara city offers many things you can never experience elsewhere in the world including the Great Buddha Hall, one of the largest wooden architectures in the world, Kasuga Taisha shrine that provides a mysterious ambience with its approximately 3,000 lanterns, Nara Park where you can play with deer, a messenger of a buddha and tasteful sake that was originally born in here Nara. There are many cafes, souvenir shops, general shops and guest houses which have been reconstructed from traditional town houses of old days in "Naramachi" area that is retaining the ancient ambience when samurais were walking here and there, and each time you stroll around you may find something new out of tradition. With the world heritages and the nature that haven't changed for more than 1,300 years, Nara is the city you can experience the present and the past at the same time. That is, "The Root of Japan NARA."
Address
JR Nara Station
1 Sanjohonmachi, Nara-shi, Nara
Kintetsu Nara Station
29 Higashimukinakamachi, Nara-shi, Nara
Access from major landmarks
Kansai International Airport - Nara Station
By Train
・Kansai Airport Station (JR Line) - Tennoji Station (JR) - Nara Station (JR), approx. 80 minutes
・Kansai Airport Station (Nankai Line) - Namba Station (Nankai/Kintetsu Lines) - Nara Station (Kintetsu Line), 70 - 90 minutes
By Bus
・Kansai International Airport - Nara Station bus stop (JR/Kintetsu Lines), approx. 85 minutes
・Kansai International Airport - Yamato Yagi Station, approx. 70 - 80 minutes
Attractions near Nara City
Whether it will be your fist visit to Japan or you're already an experienced connossieur, our guide to things to see and places to go in Japan will cover all what you might need to know.
Destinations
Landmarks
Videos
SAVOR JAPAN merged with Cozy Japan, a travel information site on November 28, 2017.