Shinjuku
"Depa-chika" gourmet and entertainments -
a town that never sleeps.
More restaurants
Area Map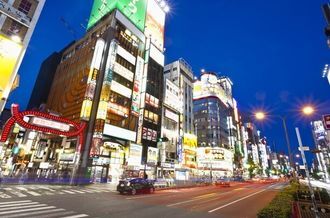 Shinjuku, where skyscrapers are towering including the Tokyo Metropolitan Government building, is a business district. At the same time Shinjuku is the No.1 downtown in Japan where all types of restaurants and bars and the likes are scattered around the area. There are also many entertainment facilities including movie theaters, playhouses and music halls. If you visit Shinjuku during the daytime, we suggest you to take a look at the "depa-chika", a department store's basement where foodstuffs are usually sold. There you can find tasteful foodstuffs from all over Japan and you may be full by simply tasting their samples. And after the twilight, it's a time for grownups -- enjoy the night of the town that never sleeps with tasty foods and booze until dawn.
Address
Shinjuku station
3-chome, Shinjuku, Shunjuku-ku, Tokyo
Access from major landmarks
From Tokyo station to Shinjuku station
・Fifteen minutes (via JR Chuo Line Rapid)
Attractions near Shinjuku
Whether it will be your fist visit to Japan or you're already an experienced connossieur, our guide to things to see and places to go in Japan will cover all what you might need to know.
Destinations
Landmarks
Articles of Shinjuku
Learn more about the local culinary scene to get ready for your Japan trip.
Here are the articles to introduce the best restaurants in Shinjuku.
+ View more
- Close
Videos
SAVOR JAPAN merged with Cozy Japan, a travel information site on November 28, 2017.