Yamanashi
Taste the local wine in the hot spring
Luxury time for adults.
More restaurants
Yamanashi Area Map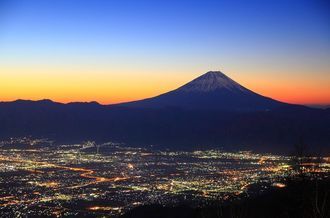 Yamanashi is famous for a World Heritage, Mt. Fuji, but that is not the sole attraction it can offer. Take wine, for example. Yamanashi Prefecture is the number one producer of wine in Japan. Though Japanese wine is not widely known, the Yamanashi wine made from the highest quality grapes offers you the flavor, taste and quality equivalent to those of other countries. You may want to visit a facility where all the local wines are gathered and taste them to find your favorite one. Another characteristic of Yamanashi Prefecture is the number of well-known hot springs among the mountains. Relax in the hot spring, taste the local cuisine and wine, all while looking at the beautiful Mt. Fuji. Yamanashi Prefecture is the place where matured adults can spend a luxurious time.
Access from major landmarks
From Tokyo station to Shinjuku station
・Fourteen minutes (via JR Chuo Line Rapid)
From Shinjuku to Kofu station
・Eighty-six minutes (via JR special express Super Azusa)
Attractions in Yamanashi
Articles of Yamanashi
Learn more about the local culinary scene to get ready for your Japan trip.
Here are the articles to introduce the best restaurants in Yamanashi.
+ View more
- Close
Yamanashi - Chef's Recommendation
Here, we introduce the truly delicious cuisine recommended by the chefs.
Videos
SAVOR JAPAN merged with Cozy Japan, a travel information site on November 28, 2017.