Kofu
Rough but beautiful gorges
One of the most beautiful places of a picturesque scenery in Yamanashi Pref.
Area Map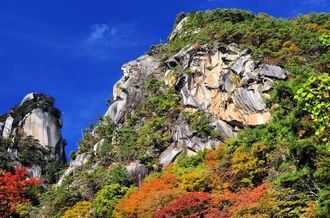 The city of Kofu used to be ruled by a famous feudal load, Takeda Shingen, and you can find many shrines, temples and historical remains associated with Shingen throughout the city. One of the most beautiful places of a great natural scenery in Yamanashi is "Shosenkyo" which is designated as a Special Place of Scenic Beauty by the Japanese government. Shosenkyo is an approximately 4 kilometers long gorge including a huge, towering Kakuenbo rock and Senga Falls, a 30-meter drop waterfall, attracting tourists with its spectacular scenery of the sheer-sided gorges. You can stroll on the promenade alongside the river and enjoy the scenery. You can also take a rest and taste the local cuisine like a grilled char and Hoto (noodles made by kneading flour) at one of the restaurants near Senga Falls while enjoying the natural greenery and the clear stream.
Address
Kofu station
1-1-8, Marunouchi, Koufu-shi, Yamanashi
Access from major landmarks
From Tokyo station to Shinjuku station
・Fourteen minutes (via JR Chuo Line Rapid)
From Shinjuku to Kofu station
・Eighty-six minutes (via JR special express Super Azusa)