Mt. Godaisan
Experience the ever-changing beautiful scenery from the summit.
More restaurants
Area Map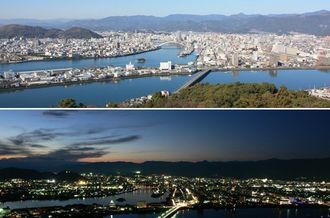 Mt. Godaisan is in the southeast part of Kochi City. It is named after a mountain of the same name in China because of its resemblance of the shape. In the park on the summit, there is an observation platform from where you can overlook the city of Kochi and the Seto Bay. The mountain is also famous for cherry blossoms and azeleas. At the foot of the mountain, you may want to visit the Kochi Prefectural Makino Botanical Garden that was established to commemorate a famous botanist Dr. Makino Tomitaro, "Father of Systematic Botany." Dr. Makino, born in Kochi in 1862, is said to be the first person in Japan, who gave a scientific name to a plant. With about 3,000 kinds of plants exhibited in the garden, you can enjoy the beautiful flowers by season. The precincts of Godaisan Chikurinji temple, the 31st. temple of Shikoku pilgrimage, are providing a peaceful resting spot to many visitors.
Address
Godaisan, Kouchi-shi, Kochi
Access from major landmarks
Kochi Station to Mt. GodaisanFrom Kochi Station to Mt. Godaisan observatory Station
Twenty-one minutes (via MY Yu bus)
Articles near Mt. Godaisan
Learn more about the local culinary scene to get ready for your Japan trip.
Here are the articles to introduce the best restaurants near Mt. Godaisan.
+ View more
- Close