Ise Jingu Shrine
The home for Japanese spirits in the middle of exuberant woods.
More restaurants
Area Map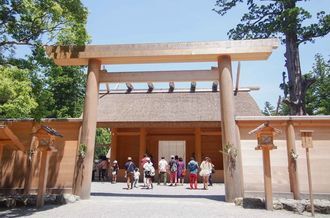 Ise Jingu Shrine is called Oise-san, located at the bank of Isuzu River. It consists of two parts, Naiku, a inner shrine, at Yamada-no-hara, which enshrines Japanese local deities, and Gaigu, outer shrine, which enshrine the gods of daily necessities. The pilgrimage path is started from Gaigu and later visit to Naigu. Ise pilgrimage had long been a dream of Japanese people. Many Japanese had wished to attain a once-a-lifetime dream of visiting Oise-san. Two-days trip is recommended because there are many places you should see in both Naigu and Gaigu. You might discover your true Japaneseness in your inside when you put yourself in the middle of exuberant quiet woods.
Address
Ise Jingu Shrine
1, Ujitachicho, Ise-shi, Mie
Access from major landmarks
Tsu Station - Ise Jingu Shrine
From Tsu Station to Iseshi station
Thirty-five minutes (via Kintetsu Nagoya Line express)
From Iseshi station to Ise Jingu Shrine
Approx. Five minutes by walk
Attractions near Ise Jingu Shrine
Whether it will be your fist visit to Japan or you're already an experienced connossieur, our guide to things to see and places to go in Japan will cover all what you might need to know.
Destinations